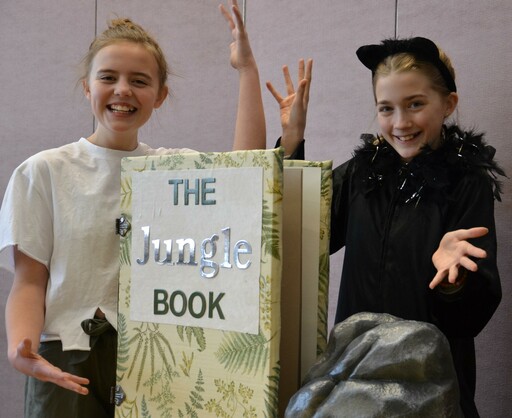 Sherwood Park, AB. — Strathcona Christian Academy (SCA) Elementary is proud to present Disney's Jungle Book Kids, an adaptation of the treasured animated film, on March 13-14 at 7 p.m.
Performed by Grade 5 and Grade 6 students from SCA Elementary's Musical Theatre program, Disney's Jungle Book Kids is a heartwarming children's production featuring all the things we've come to love about the story. Mowgli, along with his friends Baloo, Bagheera and all the other denizens of the jungle, will take the audience on a musical adventure filled with excitement, danger and friendship. Students will also perform the movie's beloved musical classics including The Bare Necessities, and I Wanna Be Like You.
"Musical theatre is a beautiful and creative art form, and the students are excited to share it with the school, families and community" says Adrienne Roussel, the Music Director at SCA Elementary. "It's quite a feat of teamwork for 60 students to put on a show like this. They've all demonstrated an incredible amount of patience and self-discipline to get everything just right. Those who come won't be disappointed."
SCA Elementary's Musical Theatre program offers students the opportunity to act and sing, all while developing their self-confidence and literacy skills. In total, 60 SCA Elementary students are enrolled in the afterschool program, all of whom have a role in the upcoming Disney's Jungle Book Kids production.
"Though the story is more than a century old, it still manages to delight," says Francis Poole, the Principal of SCA Elementary. "It shows us any obstacle can be overcome when you have loyal friends by your side."
Show times and details:
Dates: March 13 and March 14
Time: 7 p.m. (doors open at 6:15 p.m.)
Place: Sherwood Park Alliance Church; 1011 Clover Bar Rd.; Sherwood Park
Cost: Free
Strathcona Christian Academy Elementary serves approximately 590 students in kindergarten to Grade 6 offering instruction with a Christian perspective. Located in Sherwood Park, it's one of 43 schools within Elk Island Public Schools. For more information about the school visit www.scaelementary.ca.
–30–
For more information contact:
Francis Poole, Principal, Strathcona Christian Academy Elementary, 780-449-2787
Laura McNabb, Director, Communication Services, EIPS 780-417-8204 cell 780-405-4902