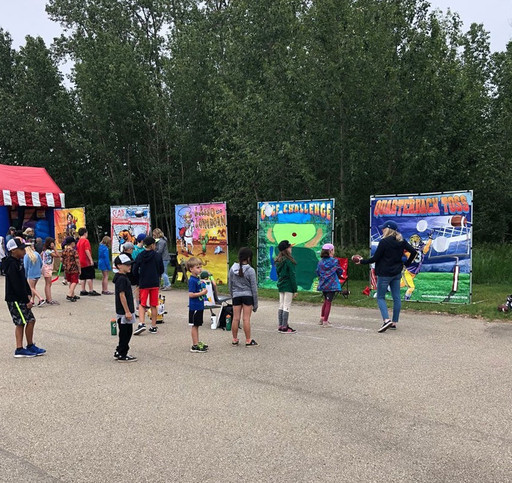 Sherwood Park, AB. — Inspiring elementary students to get excited about their health and well-being can be challenging, which is why Brentwood Elementary hosts the annual Brentwood in Motion. Now in its seventh year, the event encourages students to focus on both physical and mental wellness, while also celebrating the end of another successful school year.
"We try to develop a foundation for balance and stress management throughout the year," says Christine Romanko, the Principal of Brentwood Elementary. "It teaches students they can develop a healthy and active lifestyle in an enjoyable way."
The event was created to replace the traditional track and field event with a reimagining that incorporates elements of teamwork, character building and sportsmanship. In total, more than 20 activities are offered—including a dunk tank, human battle ship and angry birds—that incorporates athletic elements such as running, jumping and throwing.
Students participate in the events as part of their house, a multi-age group that each student is assigned in kindergarten. The houses help them build connections with students in other classes and grades, aimed at creating a stronger school community.
"It's important students feel supported, both by teachers and their peers," says Romanko. "They're much more motivated to continue improving when they have a safe and engaging space in which to do so."
In addition to motivating students about their personal growth, the event helps Brentwood Elementary forge important connections in the community. The school council fundraises throughout the year to provide activities and snacks for the event, partnering with generous local businesses such as Sobeys, High 5 Team Building and Jiant Jumpers.  
Next year, the school will continue the event and even introduce additional activities geared at keeping students engaged with health and wellness.
Brentwood Elementary serves approximately 480 students in kindergarten to Grade 6 and is one of 42 schools within Elk Island Public Schools. More information about the school is available at www.brentwoodelementary.ca.
–30–
For more information contact:
Christine Romanko, Principal, Brentwood Elementary, 780-467-5597
Laura McNabb, Director, Communication Services, EIPS 780-417-8204 cell 780-405-4902