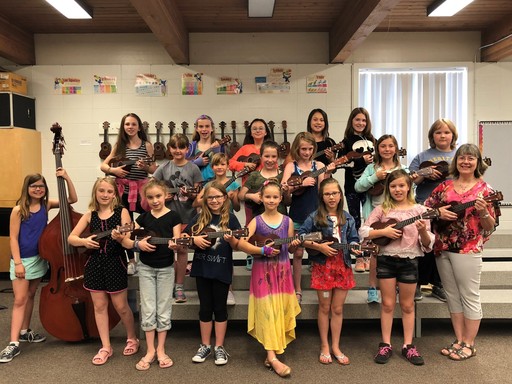 Strathcona County, AB. — Classes at Wye Elementary are getting a little more melodic thanks to Dow Canada. Recently, the organization provided a generous $4,500 grant to the school, allowing it to replace its old ukuleles with 32 new ones to help enrich the music program.
"The ukuleles we had before were well-loved but worn out," says Monique Boyer, a music teacher at Wye Elementary, who also holds a PhD in education. "Often, students would be in a performance and I'd have to tune the ukuleles after each song. Now, we can move fluidly through a whole set, which will allow us to have more community performances."
Every year, more than 200 students participate in ukulele lessons at Wye Elementary as part of its music program. Students learn four basic chords—C, F, G seven and A minor. By gaining these basic skills students are better positioned to transition in to other areas of music later on, such as vocals or other instruments. Boyer also leads two student ukulele ensembles—grades 1 to 3 and grades 4 to 6—where more serious musicians meet once a week to practice advanced techniques.
"It was quite special to unwrap the new ukuleles," says Cate Foster, a Grade 5 student at Wye Elementary. "They have a longer neck and a smooth body that make it easier to play my favourite songs, like Hawaii Five-O. It's also inspired me to take up lessons outside of school."
And, that's the goal: To provide students with the opportunity to develop their instrumental skills, both individually and as a group, learn about different music genres and share their passion for music. A goal that seems to be working. Many of the students spend recesses and lunch hours in the music room practicing new chords and strumming techniques. That student collaboration is an integral part of the ukulele program, creating a common ground for students to connect—something that has only grown with the addition of new instruments.
"We supported the ukuleles as part of our community grant program," says Jess MacDonald, the Site Public Affairs Manager for Dow Canada. "Since 2001, Dow has contributed more than $1 million to our local communities. We believe this program helps to build resilient communities where we operate, which is important to Dow."
The next community performance by Wye Elementary takes place on Aug. 29, 2018. The student ukulele ensemble will perform to mark the groundbreaking of Wye Elementary's replacement school.
Wye Elementary serves approximately 420 students in kindergarten to Grade 6 and is one of 42 schools within Elk Island Public Schools. More information about the school is available at www.wyeschool.ca.
–30–
Related information:
Clip of students playing new ukuleles
For more information:
Monique Boyer, music teacher, Wye Elementary 780-467-7447
Laura McNabb, Director, Communication Services, EIPS 780-417-8204 cell 780-405-4902