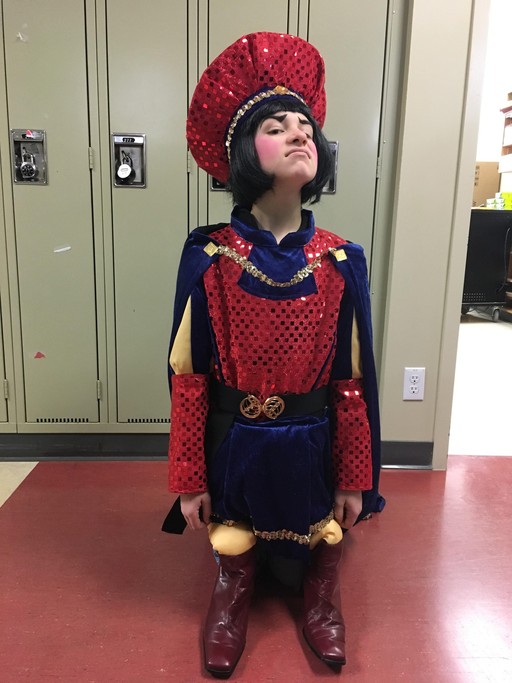 Sherwood Park, AB. — Everyone's favourite ogre is returning to the stage on February 5-8. Over the four days, Lakeland Ridge is presenting the treasured classic, Shrek the Musical JR., an adaption of the DreamWorks animated film.
Performed by students in the school's Wolves Drama Program, Shrek the Musical Jr. tells an inspiring story about an unlikely hero who finds himself on a life-changing journey alongside a wisecracking Donkey and a feisty princess. Despite a series of obstacles, including a short-tempered Lord Farquaad, a love-sick dragon and some banished fairytale misfits, the trio prove life isn't always what you expect it to be. Students will also perform the movie's musical classics including Big Bright Beautiful World, I'm a Believer and Make a Move.
"It's a tale about love, about friendship and about forgiveness," says Matt White, a drama teacher at Lakeland Ridge. "Together students use song, costumes and a comedic storyline to entertain and delight audiences while also offering an important life lesson about inner beauty and being true to who we really are."
With a cast of more than 100 students in grades 6 through 9, Lakeland Ridge's Wolves Drama Program aims to develop student artistic abilities, teach about theatre and production, and at the same time, build a broad spectrum of skills. "Every year we see so much growth in our students, and that's what makes the program so valuable," says White. "It's a hands-on lesson that teaches students about hard work, commitment, working collaboratively, imagination, taking on risks and going outside their comfort zones—all important life skills. "
Since launching in 2012, the program has earned a reputation province wide for its high-quality productions, student talent and outstanding set design. As a result, by special request, the school is showcasing its drama program at the next Teachers' Convention in February. Schools throughout the region will use the Wolves Drama Program to guide and structure their own drama program. Part of the program's success stems from its mentorship initiative. Each first-year student, regardless of grade, is assigned a mentor who offers advice and guidance around line and choreography memorization, character work, and confidence building.
"Performing in front of your peers and a live audience can be intimidating, especially for first-time students," says Matt Solari, a Grade 9 student at Lakeland Ridge who is co-sharing the role of Shrek with his twin brother, Ben. "It's our job to step up and support them." It's a sentiment his bother agrees with: "It benefits the entire team," says Ben. "Now, all of us are ready and excited to finally present Shrek. It's funny, it's lively, and it teaches us to be true to ourselves and that our differences make us special—sure to be fun for the entire family."
Show times are as follows:
Performance: Shrek the Musical Jr.
Date: February 5, February 7 & February 8
Time: 7 p.m. (doors open at 6:30 p.m.)
Location: Festival Place
Tickets: $11.50—available through Ticketmaster and Festival Place Box Office.
Lakeland Ridge is a kindergarten to Grade 9 school serving approximately 750 students in Sherwood Park and is one of 42 schools within Elk Island Public Schools. More information about the school and its drama program is available at www.lakelandridge.ca.
–30–
For more information contact:
Matt White, drama teacher, Lakeland Ridge, 780-416-9018
Laura McNabb, director, Communication Services, EIPS 780-417-8204 cell 780-405-4902