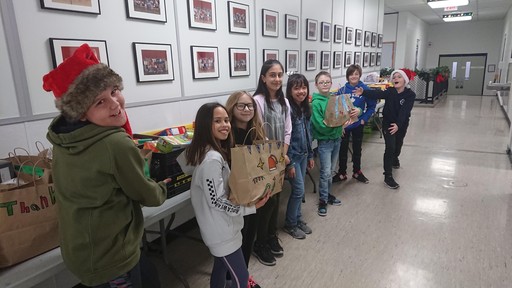 Sherwood Park, AB. —Students of Mills Haven Elementary have found a creative way to collect items for the Strathcona Food Bank. Instead of gathering donations within the school, students decided to venture out into the community to collect food items, calling upon the goodwill and generosity of their neighbours. "I think the food drive was a great opportunity for us to help the community," says Cielo, a Grade 6 student at Mills Haven Elementary. "It's important to show people respect, and treat them the way you want to be treated."
Last week, student volunteers visited 250 homes in the Mills Haven neighbourhood, leaving a paper bag and a note on each doorstep. The note explained the nature of their community food drive, asked residents to consider filling the bags with non-perishable food items by the following Friday, when students would return to pick them up. When staff volunteers returned to the homes on Friday evening, they found the community had answered their call—more than 100 full bags were waiting for them.
"The students were so excited to see their bags come back," says Sarah Choo, a Grade 6 teacher at Mills Haven Elementary. "Many of the bags were even splitting under the weight of all the donations. As part of a school-wide Indigenous education initiative, we've been learning about the sacred teachings values of respect, courage and humility, and how they coincide with the act of giving. It was great for the students to be able to see those values in action."
In total, the school received enough food donations to fill roughly 50 milk crates, which will be sent to the Strathcona Food Bank in time for Christmas. The school plans to build on this momentum in the new year, exploring some of the other ways they can use the sacred teachings to create even more positive change in their community.
Mills Haven Elementary serves approximately 450 students in Sherwood Park from kindergarten to Grade 6 and is one of 43 schools within Elk Island Public Schools. More information about the school is available at www.millshaven.ca.
–30–
For more information contact:
Laura McNabb, director, Communication Services, EIPS 780-417-8204 cell 780-405-4902