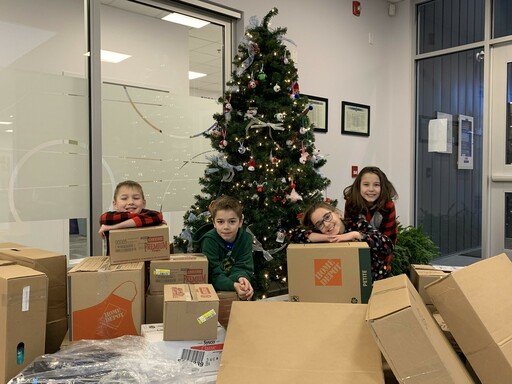 Sherwood Park, AB. — Students and staff at Ardrossan Elementary are embracing the season of giving with a creative charity initiative. The school has installed a collection of Giving Trees, undecorated Christmas trees, in their front entrance, waiting to be decorated with donations for the Strathcona Christmas Bureau.
Each grade level was given a different day to decorate their tree, along with a unique set up items for donation. For example, the kindergarten class was tasked with decorating their tree with warm socks, while the Grade 4 class had to decorate their tree with non-perishable food items. What resulted was a beautiful set of trees, glowing with the spirit of generosity. "Every year, we set up our giving trees to demonstrate our school's capacity for compassion for those less fortunate," says Helene Hewitt, the Principal of Ardrossan Elementary. "By the time all our trees were decorated, we had about 20 boxes of warm clothing, food and personal items to hand off to the Strathcona Christmas Bureau. We're all so proud of the continued generosity of our school community."
Similar to Ardrossan Elementary, students and staff throughout Elk Island Public Schools (EIPS) have embraced the holiday spirit by organizing charitable activities—collecting everything from non-perishable food items to clothing to toys to various household items. The items collected and funds raised are being donated to various non-profit organizations across the region and around the world, including local food banks and Christmas bureaus, The Bissell Centre, The Mustard Seed, Hope Mission and more.
"Every year, our schools make such positive impacts in their communities through these generous charity initiatives," says Trina Boymook, the Board Chair at EIPS. "Compassion and kindness are life skills just like any other, and when students hone these skills through school-wide initiatives, they are learning just how much power they have when it comes to helping their friends and neighbours."
Congratulations to all 43 EIPS schools that are generously giving back to their communities. EIPS wishes everyone a happy holiday season a wonderful New Year.
EIPS is one of Alberta's largest school divisions, serving approximately 17,400 students in 43 schools. We are proud to be an integral part of our communities, including Sherwood Park, Fort Saskatchewan, Vegreville, Strathcona and Lamont counties, and the western portion of the County of Minburn.
–30–
For more information contact:
Laura McNabb, Director, Communication Services, EIPS 780-417-8204 cell 780-405-4902