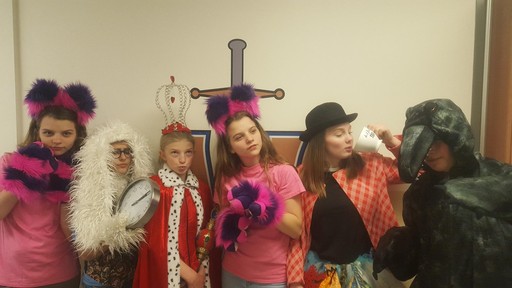 Fort Saskatchewan, AB. — Fort Saskatchewan Christian is sure to bring smiles and laughter to the stage as it hosts its annual Junior High Fine Arts Night on May 15. The main feature: The Mad Tea Party, an original story based on characters from the beloved novel, Alice in Wonderland.
Performed by junior high students from Fort Saskatchewan Christian's drama club, The Mad Tea Party is a witty and whimsical tale that follows Alice in Wonderland's notorious characters Mad Hatter, Dormouse and March Hare as they meet up for a tea party to honour Time, who recently set time right. The celebrations are short lived when Jabberwock shows up and wreaks havoc on the tea-party guests. To fix the problem, Time allows guests to travel back through time to the moment when Jabberwock arrives—a task that proves to be easier said than done.
"It's a light-hearted, high-energy play with an uplifting ending," says Charis LaRue, a Grade 8 student at Fort Saskatchewan Christian who is playing the role of Mad Hatter. "We've worked really hard over the last five months and have learned so much—about drama, expression, speech, body language and how to bring our characters to life. I hope a lot of people come to see it."
In total, 28 students are enrolled in Fort Saskatchewan Christian's drama club, all of whom have a role in the upcoming production of The Mad Tea Party. The club offers students the opportunity to develop their acting, improv, singing and creative-movement skills while also teaching valuable lessons around teamwork, co-operation and collaboration.
"Students are learning about the preforming arts, creating interesting characters as a team and sharing their passion with others," says Tonya Demkiw, a teacher at Fort Saskatchewan Christian and the school's drama director. "Collectively, they've worked incredibly hard and are now looking forward to sharing the story of The Mad Tea Party with the community. It's a fun and amusing play that offers an important message about the power of problem-solving and perseverance."
Showtimes and details:
Dates: May 15, 2018
Time: 6:30 p.m. to 8:30 p.m. (doors open at 6 p.m.)
Place: Fort Alliance Church, 9935 93 Ave., Fort Saskatchewan
Cost: Free
Other program highlights: a junior high art gallery, student drama skits and musical performances.
Fort Saskatchewan Christian services more than 375 students in kindergarten to Grade 9 offering instruction with a Christian perspective. Located in Fort Saskatchewan, it's one of 42 schools within Elk Island Public Schools. For more information about the school visit www.fortchristian.ca.
–30–
For more information contact:
Tonya Demkiw, drama director, Fort Saskatchewan Christian, 780-998-7044
Laura McNabb, director, Communication Services, EIPS, 780-417-8204 cell 780-405-4902