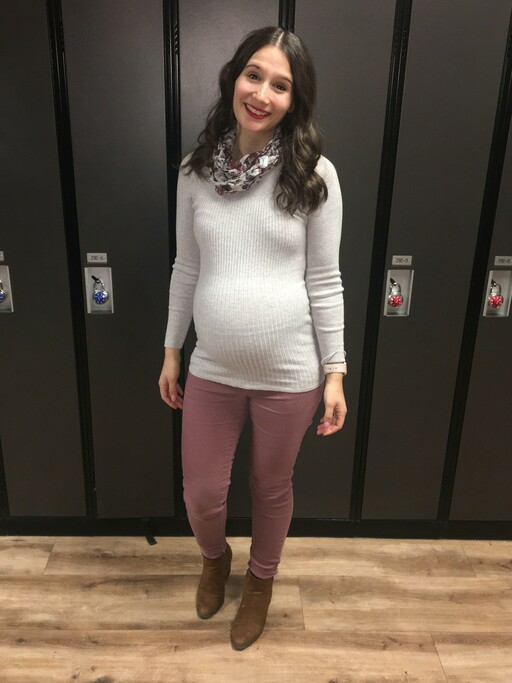 Sherwood Park, AB. — March 9-13 is Substitute Teacher Appreciation Week in Alberta, an opportunity to recognize substitutes and all the hard work they do throughout the year. Every day, substitute teachers come into schools and keep them running smoothly, where illnesses and other unforeseen absences would have otherwise brought them to a halt. Kayleigh Robertson has been a substitute with Elk Island Public Schools for the last two years, after working as a full-time teacher for five years in Fort Saskatchewan. As someone who has seen both sides of the profession, Robertson says working as a substitute has brought a new and valuable perspective to her work as an educator.
"I think there are teachers for all seasons of life, and subbing is a good fit for some," Robertson says. "For me, it has been an opportunity to continue to live out my passion for teaching, while also having the flexibility to be there for my family. It's been the best of both worlds."
From an outside perspective, substitute teaching can often seem like thankless work. Subs show up to an unfamiliar school in the morning and need to figure things out on the go. But Robertson sees the work as an opportunity to grow and expand her skills as an educator. "Subbing shows you how many different ways you can run a classroom to best meet the needs of students," she says. "We have so many great teachers in our Division, and I feel like I've had a chance to learn from every classroom I've visited. It's such a valuable position to be in, one I'd recommend all teachers try at least once."
Of course, there are many challenges to the role too, and flexibility is an important skill to develop. "You never really know what you're going to get until you arrive at the classroom," Robertson says. "Sometimes you show up to missing lesson plans, unexpected field trips or challenging behavioural issues, and you have only minutes to figure it out. The students in our Division are always so cooperative and understanding, though. I figured subbing meant I would lack the teacher-student connection I had as a full-time teaching position, but it just isn't true."
When she comes up against challenges she can't overcome on her own, Robertson says she can always rely on the kindness of school staff. "There are always a few teachers in every school who take time to get to know me and make sure I have what I need to succeed. It means a lot to me, to feel included and have that support."
Robertson is just one of 345 substitute teachers who work across Elk Island Public Schools, from Elementary to Senior High, in general education and in every kind of specialized program. Without their hard work and positive attitudes, our schools would run much less smoothly. So, when you see a substitute this week and in all the weeks to come, be sure to make them feel welcome and thank them for the work they do.
Thank you to all the substitute teachers across Elk Island Public Schools for all that you do!
Elk Island Public Schools is one of Alberta's largest school divisions, serving approximately 17,400 students in 43 schools. We are proud to be an integral part of our communities, including Sherwood Park, Fort Saskatchewan, Vegreville, Strathcona and Lamont counties, and the western portion of the County of Minburn.
–30–
For more information contact:
Laura McNabb, Director, Communication Services, EIPS 780-417-8204 cell 780-405-4902