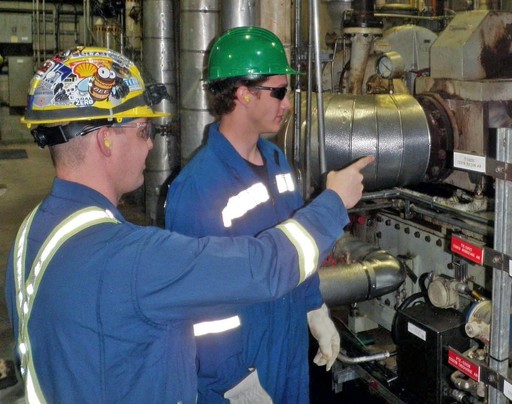 Lamont, AB. — A three-way partnership between Shell Canada, Northern Lakes College and Lamont High is helping students interested in power engineering get a head start.
Power engineers supervise, operate and maintain machinery and boilers that provide steam, power, heat, refrigeration and other utility services to industrial and commercial facilities. It's a sector with lots of rewards but it can sometimes be challenging to get a foot in the door. Over the course of the last two years, Lamont High students have been given the coveted opportunity to gain steam time at Shell Canada's Scotford upgrader in Strathcona County and complete course work through Northern Lakes Colleges.
"I am taking power-engineering theory through the college while completing high school and also apprenticing at Scotford," says Luke Farrell, a Grade 11 student from Lamont High who is taking part in the program. "It's a huge deal. Some people have to wait two years or more to just find a placement to log the time to become certified as a fourth-class power engineer."
Lamont High principal, Sharon McLean, says that's the goal of the partnership. "The working world is incredibly competitive," she says. "Many power-engineering students face a long wait list for workplace training and that has a direct impact in terms of finding a position down the road. For those students who already have their eye on a rewarding career in the trades, partnerships like the one we have with Shell Canada and Northern Lakes College give them an invaluable advantage."
For Shell Canada, providing local students with a chance to learn on the job is an investment in the success of the organization. "We're proud to be able to provide opportunities like this to students who live in our community," says Conal MacMillan, Shell Scotford's external relations advisor. "It's critical to us to continue developing our partnerships with local schools to be able to build our future skilled workforce."
Luke Farrell is grateful for the partnership. "My brother and one of our friends went through the same program," he says. "They both have successful careers in the sector, which they attribute in large part to this program. I'm really lucky that Shell Canada has given me that chance!"
Elk Island Public Schools is one of Alberta's largest school divisions, serving approximately 17,100 students in 42 schools. We are proud to be an integral part of our communities, including Sherwood Park, Fort Saskatchewan, Vegreville, Strathcona and Lamont counties, and the western portion of the County of Minburn. To learn more visit www.eips.ca.
–30–
For more information contact:
Conal MacMillan, external relations advisor, Shell Scotford 780-992-3027
Laura McNabb, director, Communication Services, EIPS 780-417-8204 cell 780-405-4902