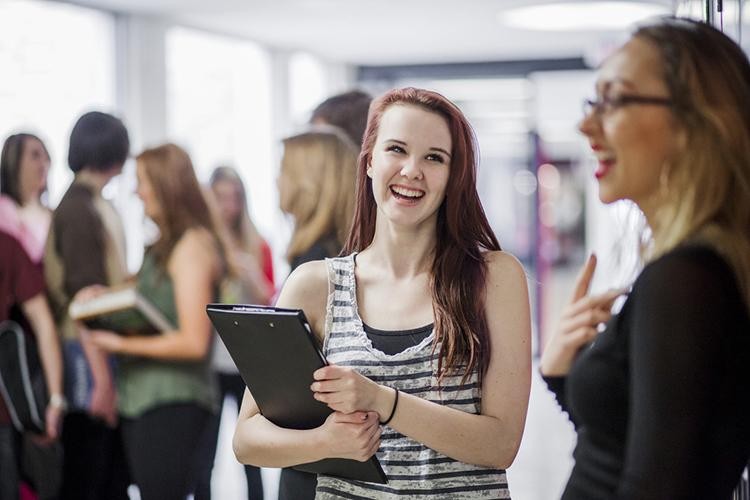 Sometimes we need to think outside the box, or differently, to see new possibilities

People often say they wish they knew in high school what they know today, or even, were more aware of what they were passionate about. It's that notion, with age comes wisdom. While true, it can sometimes under-estimate our youth. Wisdom, passion, knowledge are all processes that come with experience and skill. As educators we're constantly exploring ways to provide students with opportunities so they can explore their interests, hone their skills and discover their passions. Most of the time, conversations around this topic turn philosophical. Lately though, mine have turned towards the practical.
What if students had more opportunities to develop their abilities? What if they knew their inner strengths earlier? What would this look like in the context of our classrooms? Sometimes we need to think outside the box, or look outwards to challenge ourselves, to think differently and to ultimately see new possibilities.
At the senior high level, school divisions have a tendency to replicate the same programs and opportunities at each school. Within Elk Island Public Schools, all of our senior high schools—Andrew School, Ardrossan Junior Senior High, Bev Facey Community High, Fort Saskatchewan High, Lamont High, Next Step, Salisbury Composite High, Strathcona Christian Academy Secondary and Vegreville Composite High—offer comparable programming, comparable opportunities and comparable supports for students. The result: Our students are mastering the same academic content to prepare them for post-secondary education and the workforce. That's a good thing. But, there is also the reality that attempting to replicate the identical, or at least similar, programs in each school happens at a cost.
Is this the best way to leverage our education dollars? Is there a better way to allow students the opportunity to pursue their capabilities, interests and acumen? What would happen if we thought of our senior high schools as campuses of something larger? In this scenario, students could still belong to a school—along with its traditions, teams, activities and culture—and after three years of study, graduate from that school. The difference: Instead of replicating facilities at every senior high, each school campus could act as a hub specializing in a particular area with world-class facilities, particularly in the areas of career and technology studies—information technology, health and recreation, media and communication arts, and trades and manufacturing.
Throughout those three-years, students could seamlessly move from one school campus to another, based on their interests. Essentially, students could attend a school in the morning for core courses such as math, biology or English. Meanwhile, in the afternoon, if their interests lie in the culinary arts for example, they could go to the specific school campus specializing in that subject area. In this scenario, each campus could have allocated Division resources to establish state-of-the-art facilities with teachers whose expertise lie in that same area.
Sound impossible? The practical answer is it would require an incredible amount of planning that would affect all aspects of our Division—from transportation to timetabling. It could also maximize how the Division spends its dollars. And, as a result, it could offer learners new ways to explore their strengths and skills, early on, to then drive their passion—certainly a worthwhile conversation to start.
Mark Liguori
Superintendent