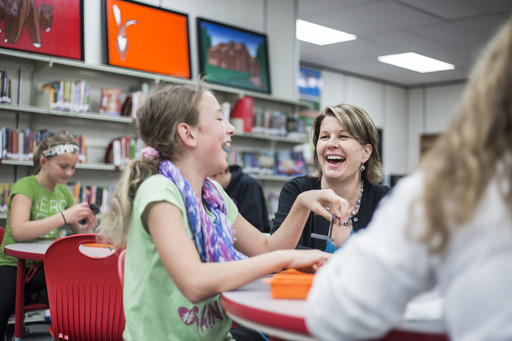 The first day of school is one of those defining moments in a person's life. It gets imprinted on your mind—like a birthday does. It's a moment you capture on camera, post on social media and share with family, friends and teachers. It's exciting and brings with it a sense of optimism.
The same is true for all of us who work at Elk Island Public Schools. Division wide there's a buzz of enthusiasm in the air. Everyone's excited to kick-start the year, meet their students and reacquaint with old ones. There's an energy that's palpable. And, it reminds me of how we're all in this together. The support systems our students have—from our administrators to our teachers to our support staff to our families to our communities—are vast. It's a network that's essential to our students' learning.
Collectively, we have so much talent and so much commitment extending across the entire Division. Behind it all, is the objective to help our students do their best and make the most of the opportunities that come their way. Whether it's excelling in a certain subject or sport, setting a new goal or working through a lesson plan, there are people in the backdrop constantly mentoring and constantly encouraging our students. It's powerful. It develops a network of relationships, which in turn generates trust and facilitates better outcomes.
Research shows strong networks of relationships between educators, learners and school communities are key levers towards a variety of important outcomes including student achievement and engagement. As such, a priority within the Division is to deliberately find ways to support our students to help them grow and achieve success. The reality is, we can only truly do this by establishing and building these relationships.
Equally significant for students is connecting with the community—volunteering; getting involved in community-service projects; becoming more involved in school initiatives; or joining a team, club or program. The stronger these relationships are, the more positive the impact is on our students' learning. The goal, of course, is through these relationships, students will gain the confidence and connections they need to problem solve, overcome obstacles and make the most out of their opportunities.
As we head into this next school year, my hope is that the excitement and optimism we all feel right now continues year long. That ongoing energy and enthusiasm will help develop our students, develop their networks and develop their potential. Here's to another successful and fulfilling school year. 
Mark Liguori
Superintendent