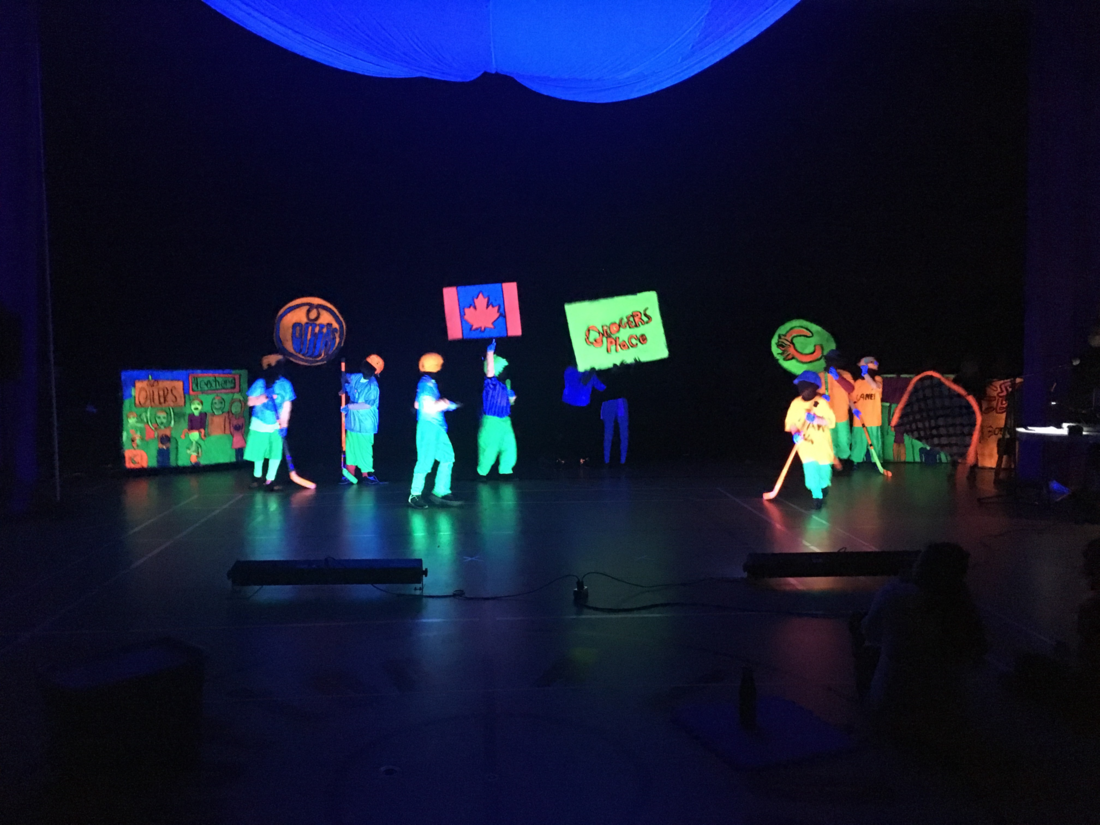 Vegreville, AB. — Students at A.L. Horton Elementary are putting a new spin on learning, thanks to a hands-on artist-in-residence program taking place at the school from May 28 to June 1.
The school has partnered with Calgary-based Trickster Theatre, a touring theatre company for young audiences. The company is at the school all week, facilitating a performing arts project that challenges students to think critically about the chosen themes: Canada 150 and The Seven Habits.
"Both plays touch on important topics which help facilitate a conversation within the school about diversity and self-reflection," says Ralph Arndt, assistant principal at A.L. Horton Elementary. "Having the students work together to stage a performance of this kind helps them gain a deeper understanding of the subject while building confidence in new skills."
All week, students—from kindergarten to Grade 6—have been participating in a series of interactive workshops that focus on the theme for their class. Each workshop offers a unique blend of science, social studies, scriptwriting, character creation, choreography, song writing and improvisation. Students are also learning about different styles of technical theatre such as using black light and shadows. Now complete, the school is planning a grand finale featuring two student-created plays entitled, Canadian Pride! and ALH: This is Us, showcasing all they've learned over the course of the week.
"The students are looking forward to being able to show off the skills they've built," says Arndt. "I think too, they feel as though they've contributed to something bigger in the school community."
Looking ahead, the school plans to build on what was learned during the artist-in-residence project by offering similar history-related activities throughout the year. A special thanks to Alberta Foundation for the Arts, a public agency that supports and contributes to the arts in Alberta, for donating a grant to make this project possible.
Media are invited to join students and staff at A.L. Horton Elementary as they perform the student-created plays:
Event Details:
Date:     Jun 1, 2018
Time:     5:30 p.m. and 7 p.m.
Place:    A.L. Horton Elementary, gymnasium, 5037 - 48 Ave., Vegreville
A.L. Horton Elementary serves approximately 380 students in kindergarten to Grade 6 in Vegreville, Alta. It's also one of 42 schools within Elk Island Public Schools. More information about the school is available at www.alhorton.ca.
–30–
For more information contact:
Ralph Arndt, assistant principal, A.L. Horton Elementary, 780-632-3113
Laura McNabb, director, Communication Services, EIPS 780-417-8204 cell 780-405-4902