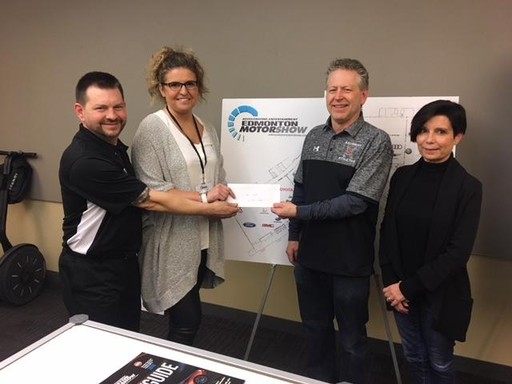 Sherwood Park, AB. — Auto technician students at Bev Facey Community High and Salisbury Composite High are getting to broaden their skillsets thanks to a generous donation from the Edmonton Motor Dealer Association (EMDA).
Recently, both schools received $10,000 in funding from EMDA to purchase new equipment for the auto technician program. "I can't overstate the importance of this grant," says Kevin Husky, an auto technician teacher at Salisbury Composite High. "The money from EMDA allows us to upgrade our equipment, enhance learning and better position students for a successful career post-graduation."
With the influx of funds, both schools plan to expand their wheel-alignment systems, which will enhance training and help to familiarize students with emerging trends in the trade, before even leaving school. "We're so pleased to be able to offer the grant money to these schools," says Eleasha Naso, the executive director of the EMDA, a non-profit organization committed to promoting and supporting people within the automotive industry. "The goal of our grant program is to enhance industry sustainability by ensuring students with a desire to pursue a career in this area have the opportunity to train on the best equipment and get the education they need to advance."
Collectively, the auto technician program at Bev Facey Community High and Salisbury Composite High trains between 400 and 500 students on an annual basis. In addition to hands-on learning, the new equipment will allow students to work on higher-quality equipment, in a faster time frame and with industry-standard training. "Partnering with organizations such as EMDA allows us to expand the educational opportunities for our students," says Frank Strohschein, a senior instructor with Bev Facey's auto technician program. "As a result, they are able to take advantage of opportunities that allow them to go beyond the basics and gain a deeper understanding of potential career paths."
Elk Island Public Schools is one of Alberta's largest school divisions, serving approximately 17,150 students in 42 schools. We are proud to be an integral part of our communities, including Sherwood Park, Fort Saskatchewan, Vegreville, Strathcona and Lamont counties and the western portion of the County of Minburn. To learn more visit www.eips.ca.
–30–
For more information contact:
Joseph Clark, director, Learning Services, EIPS 780-417-8173
Laura McNabb, director, Communication Services, EIPS 780-417-8204 cell 780-405-4902