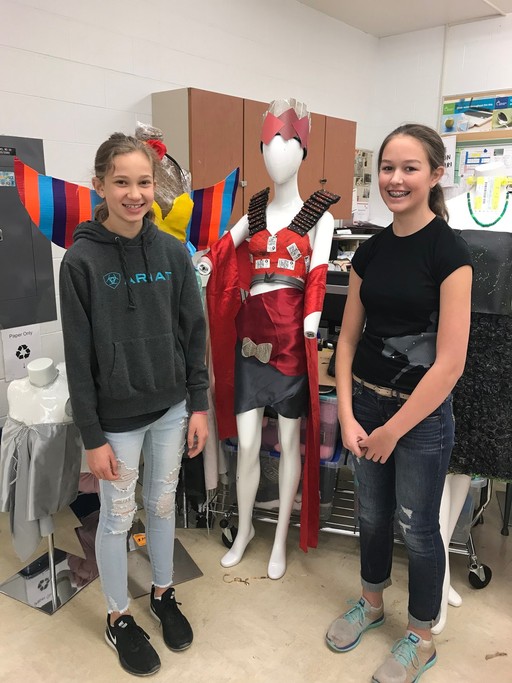 Sherwood Park, AB. —Some of the businesses in Vegreville are looking a bit more glamorous lately, thanks to the hard work of some Vegreville Composite High students. As part of a class project, fashion studies students were challenged to make stylish, wearable art out of a variety of discarded materials donated by several local businesses. Now complete, the outfits are on display across town in the very businesses that the donated the materials in the first place.
Last year, when Sears announced that it would be closing its stores across the country, Deanna Miller, Vegreville Composite High's fashion studies teacher, met with the liquidators from the local branch of the department store chain to see if they would be willing to donate any mannequins that her students could use for their studies. The store was more than willing to give her the mannequins, which would have been thrown away otherwise, and their generosity gave Miller an idea.
Over the next few months, she got in contact with 15 local businesses from around Vegreville and asked them if they would be willing to donate any disposable materials to her class. Just like Sears, they were happy to oblige, offering things like carpet underlay, onion bags, old chair covers and more. Students took these materials and over two weeks, crafted them into pieces of wearable art. "The project was a lot of fun," says Bethanie Robbins, Grade 8 student. "It inspired me to be creative, and push myself to do more than I thought I was capable of."
The challenge was a success, and Miller is already in the process of securing materials for next semester's classes. The sustainable-fashion art pieces will be up on display until December 3, showing business owners and customers alike what can be done with materials that most of us would be quick to throw in the trash. "The students really impressed me with their pieces," says Miller. "They are such an enthusiastic and open-minded group, they took the concept of sustainable fashion and just ran with it."

If you want to take a look at what the students have created, be sure to visit the following businesses: Budget Floors, Canada Post, Vantage Builders, Deerland Equipment, Esteem Wedding and Event Rentals, Nick's No Frills, T.D. Canada Trust Bank, Vegreville Drug Mart and Vegreville Home Hardware.
EIPS is one of Alberta's largest school divisions, serving approximately 17,150 students in 43 schools. We are proud to be an integral part of our communities, including Sherwood Park, Fort Saskatchewan, Vegreville, Strathcona and Lamont counties, and the western portion of the County of Minburn.
–30–
For more information contact:
Laura McNabb, director, Communication Services, EIPS 780-417-8204 cell 780-405-4902