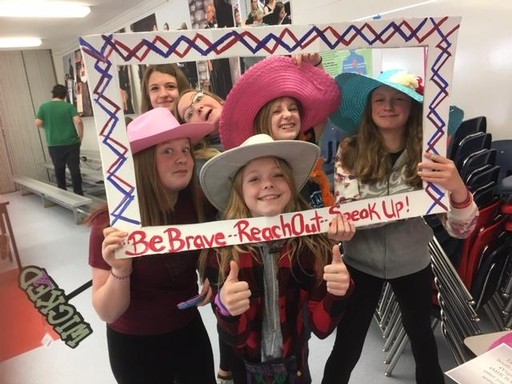 Sherwood Park, AB. —On October 24, Vegreville Composite High hosted the Division's first Headstrong Summit, a day-long mental health awareness initiative sponsored by the Mental Health Commission of Canada. The summit taught students that when it comes to mental health, silence is no longer a viable option. When they see someone struggling, or if they are struggling themselves, it is their responsibility to be brave, reach out and speak up.
The day started off with a smudging ceremony from Elder Wilson Bearhead, followed by a presentation from a young Calgary woman named Evangeline Zak. Despite being only 21 years old, Zak's experiences in life so far have made her a valuable resource for young people. Since she was 13, Zak has struggled with bouts of drug addiction and depression that nearly claimed her life. While she's since recovered, she still remembers those days clearly, and spoke to a lot of concerns that students had about their own struggles and mental wellbeing.
Zak's story was powerful for students, but struggles with mental health can be more easily contextualized when paired with a familiar face. To help students connect these concepts to their own lives, five members of the local community volunteered to come into the school and host conversations with students about their own struggles, as well as strategies that have helped them cope with depression, anxiety, schizophrenia and more. "These conversations can be scary for students at first," said Kirstin McSween, Wellness Coach for Elk Island Public Schools. "For most of their lives, mental health issues have been something that nobody talks about, at least not in the same way that they might talk about a physical illness. Getting comfortable with these conversations is important, so people won't be afraid to reach out when they need help."
The final task of the day was for students to apply their learning. In small groups, students began to plan ways that they could contribute to building mental health awareness and support in their own community. The idea is that with the support of their teachers, students will continue to build upon the ideas after the end of the summit, spreading awareness throughout their communities and even to other schools.
Vegreville Composite High serves approximately 370 students in grades 7-12 and is one of 43 schools within Elk Island Public Schools. More information about the school is available at www.vegcomp.ca.
–30–
For more information contact:
Laura McNabb, director, Communication Services, EIPS 780-417-8204 cell 780-405-4902