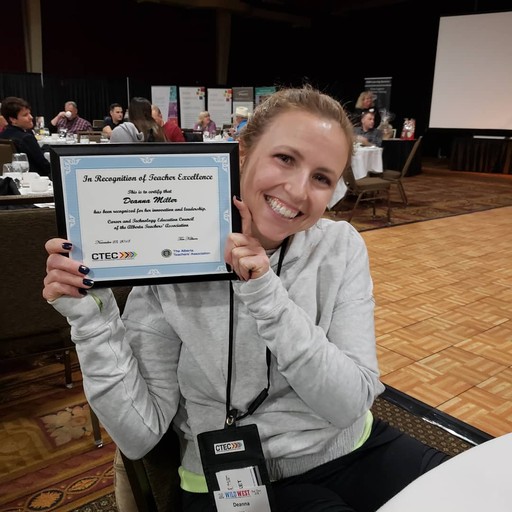 Sherwood Park, AB. — Elk Island Public Schools (EIPS) is proud to announce Deanna Miller, a food and fashion studies teacher at Vegreville Composite High, is this year's winner of the Career and Technology Education Council (CTEC) Teacher of Excellence Award.
Miller received the award at the CTEC Conference 2018, an annual meeting of career and technology studies (CTS) and career and technology foundations (CTF) teachers from across Alberta, in Red Deer. Annually, the award is given to a teacher who has proven to be an exemplary educator in the area of CTS or CTF. Miller stood out among the competition for her innovative teaching style, her devotion to professional learning and the unique educational opportunities she offers to students.  "I love the work I do, and to see my colleagues recognize that love is a special feeling," she says.
That love for her work is expressed, in part, by the vast number of initiatives she is involved in at the school, including the Breakfast Club, a catering program, the annual culinary competition, advanced baking classes and more. "I try to approach everything in life with an open heart and an open mind, treating every interaction as an opportunity to grow and learn," she adds. "Students, colleagues, parents, friends and family all contribute to who I am and what I've accomplished."
After receiving the award, Miller presented her own careers and technology learning session for the attendees of the CTEC Conference—sharing some of her expertise with colleagues from around the province.
Congratulations Deanna Miller for a job well done!
Vegreville Composite High serves approximately 370 students in grades 7-12 and is one of 43 schools within Elk Island Public Schools. More information about the school is available at www.vegcomp.ca.
–30–
For more information contact:
Deanna Miller, Teacher, Vegreville Composite High, (780) 632-3341
Laura McNabb, Director, Communication Services, EIPS 780-417-8204 cell 780-405-4902