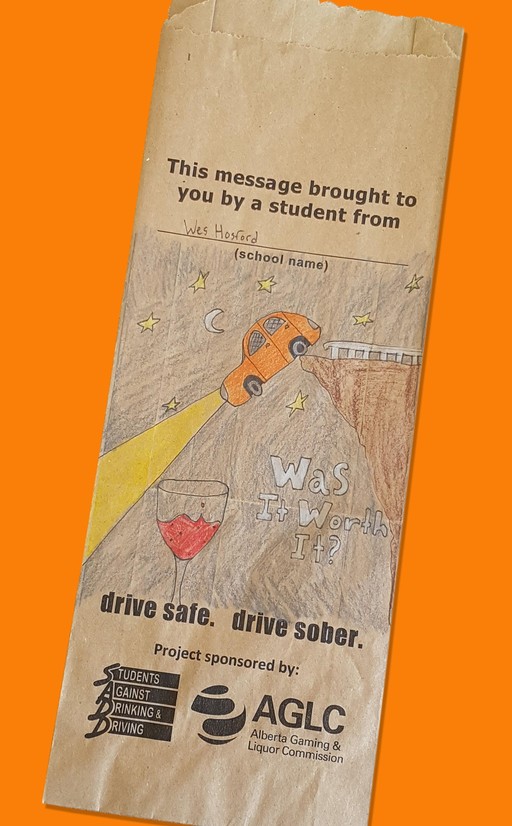 Sherwood Park, AB. — "Was it worth it?" That's the question Wes Hosford Elementary student, Ben Pirritano, asked to earn one of the top spots in this year's Students Against Drinking and Driving (SADD) Alberta Liquor Bag Contest, a provincewide campaign aimed at raising awareness about the dangers of impaired driving. "It's not only the impaired driver's life that is in danger," says Pirritano, "it's other drivers and pedestrians too."
In December, Pirritano, along with each of his Grade 6 classmates at Wes Hosford Elementary, created an impaired driving ad on a paper liquor bag as part of the SADD Alberta Liquor Bag Contest. The contest was the finale to the school's 10-week Drug Abuse Resistance Education (DARE) program where students learn about important topics relating to drugs and alcohol such safety precautions, smart decision-making and dealing with peer pressure. Once the bags were complete, they were judged by the class—majority-rules style. Pirritano's bag was voted the best overall. The top three bags were then sent in to compete in the provincial contest. Meanwhile, the remaining student-designed bags were delivered to liquor stores throughout the area as a reminder not to drink and drive.
"Overall, we were amazed by the calibre of bags our students created in terms of their ideas and messaging," says Richard Henderson, a Grade 6 teacher at Wes Hosford Elementary. "I think the DARE program helped foster a deeper understanding for students. We also had an RCMP officer come into the classroom to share her story about being hit by a drunk driver. It certainly made an impact on all of our students, especially Ben. I think his tagline 'Was it worth it?' hits the message home for a lot of people."
In total, 300 schools across Alberta participated in this year's SADD Alberta Liquor Bag Contest. Of the 65,000 student-created bags, Pirritano's "Was it Worth it?" entry was one of 10 selected as a finalist. Overall, he placed an impressive second in the kindergarten to Grade 6 category. "I was pretty surprised and didn't think I'd go this far," says Pirritano. "My hope is the bag will make people stop and think before they get into a car after they've been drinking. After all, you could be wrecking a family."
Congratulations to Ben Pirritano, and all the Grade 6 students at Wes Hosford Elementary, who created a SADD Alberta Liquor Bag!
Wes Hosford is a kindergarten to Grade 6 school serving approximately 470 students and is one of 42 schools within Elk Island Public Schools. More information about the school is available at www.weshosford.ca.
–30–
For more information contact:
Patti Berry, principal, Wes Hosford Elementary, 780-464-1711
Laura McNabb, director, Communication Services, EIPS 780-417-8204 cell 780-405-4902