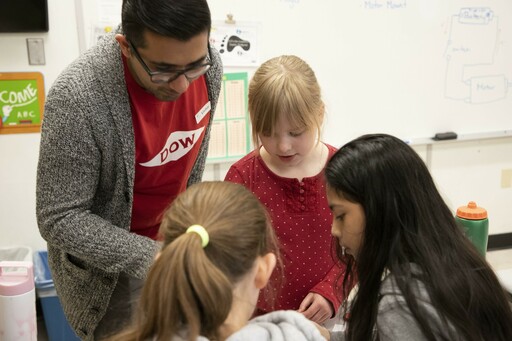 Sherwood Park, AB. — Members of the media are invited to join Grade 5 students from Wes Hosford Elementary on April 18 as they demonstrate the scientific and engineering expertise they've acquired through the Partners for Science program. With the help of ongoing funding from Dow Canada, students from all over Elk Island Public Schools (EIPS) have been able to enhance their understanding of science and technology through hands-on learning projects. "The kits are really fun and make science exciting," says Lyla Naylor, a Grade 5 student at Wes Hosford Elementary. "What I like most about them is they always have cool things in them that you can build or create. And, it's always on the subject we're learning about in class. So, that help me understand it better. My favourite kit so far, is definitely the electricity kit."
With the help of their electrical science kits and two visiting electrical engineers from Dow, students are giving hands-on demos of some of the electricity concepts they've been learning in class. This real-time building session will include demonstrations of basic electrical concepts like the construction of flashlights, and more complex tasks like burglar alarms and even small electric cars.
"It's always so rewarding to see the spark of excitement in our students' eyes as we bring out the science kits," says Kari Huk, the Assistant Principal at Wes Hosford Elementary. "The hands-on lessons that we're able to deliver with the kits create such a passion for learning and genuine interest in science. We see this passion translate into higher grades and more engaged students, and we couldn't be happier to have this partnership in place."
Partners for Science started in 1993 as a partnership between Dow Canada and EIPS. Each year, Dow supports the creation, maintenance and distribution of close to 900 science kits that are used by elementary schools all over the Division. These kits cover a wide variety of curriculum topics and give students the opportunity to learn through practice and apply course concepts to real-world situations.
"Supporting education and developing science literacy in our communities has always been a major focus for Dow Canada," says Jess MacDonald, Site Public Affairs Manager. "The students of today are the leaders of tomorrow, and when we're able to partner with school divisions to enhance understanding of science and technology, we all benefit." 
Event Details:
Date:              April 18, 2019
Time:              10:30 a.m. to 11:00 a.m.
Location:         Wes Hosford Elementary; 207 Granada Blvd.; Sherwood Park
NOTE: Principals have the responsibility to limit media coverage only to students approved for interviews. Reporters attending the event are requested to receive permission from a school EIPS representative before interviewing or photographing students. Thank you for your co-operation, and for joining us.
Wes Hosford Elementary is a kindergarten to Grade 6 school serving approximately 460 students and is one of 43 schools within Elk Island Public Schools. More information about the school is available at www.weshosford.ca.
Dow Canada combines one of the broadest technology sets in the industry with asset integration, focused innovation and global scale to achieve profitable growth and become the most innovative, customer centric, inclusive and sustainable materials science company. Dow operates 113 manufacturing sites in 31 countries and employs approximately 37,000 people. More information about Dow Canada is available at www.dow.com.
–30–
For more information contact:
Laura McNabb, Director, Communication Services, EIPS 780-417-8204 cell 780-405-4902