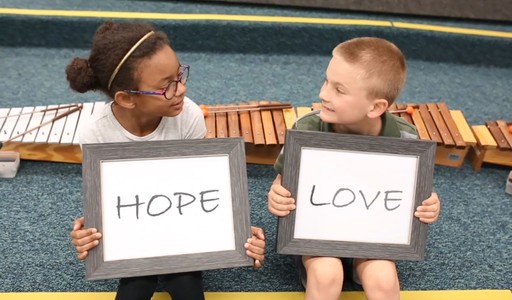 Sherwood Park, AB. — A powerful school project is helping students at Westboro Elementary find their voice. And now, thanks to their debut single, Stand as One, students are spreading their message to an even larger audience. "I think when people hear the song it will make them happy," says Hailey Gutscher, a Grade 3 student at Westboro Elementary. "It makes me happy and has taught me that you don't just care about yourself, you care about other people too. I hope when people, who got treated wrong in the past, hear it they say: 'I got treated wrong in the past but I feel that I will be treated better now.'" 
Over the last year, students at Westboro Elementary in grades 1 to 6 have taken part in Project of Heart, a countrywide initiative that focuses on Indigenous history, heritage and perspective. To date, the school has completed three of the program's six distinct steps—learning about the history of residential schools; focusing on a particular residential school; and completing the "first gesture of reconciliation," which encourages learners to communicate their feelings though the arts. To complete Step 3, the "first step of reconciliation," Westboro Elementary decided to create a song and music video about the historic struggles Indigenous communities have had to face and how to move forward towards reconciliation.
"The song is beautiful and written and sung by our students—even the melodies are student inspired," says Courtney Richard, the music teacher and First Nations, Métis and Inuit lead at Westboro Elementary. "We asked them three basic questions: Where have we come from? Where are we now? Where can we go from here? Their answers make up the lyrics and the title is based on what we heard over and over—the importance of kindness and coming together to stand as one. So, that became the song title, Stand as One."
Now complete, both the song and video is slated to debut for the first time at a school assembly on June 21, 2018. The song features three verses that respectively speak to the three questions asked earlier in the year—where have we come from? where are we now? where can we go from here? Verse 1 is sung by grades 1 and 2 students; Verse 2 by grades 3 and 4 students and Verse 3 by grades 4, 5 and 6 students. The song also features a powerful rap mix written by the Grade 6 class, which encapsulates their commitment to truth and reconciliation and features compelling phrases such as "our gift is the truth," "forgiveness takes us farther but it's just a starter," and "it's time to ignite." At the end, the entire school comes together with an emotional pledge: "Let us all be one…we will stand here strong with hope and love."
"They've truly found their voices and I hope the audience is touched by our story," says Richard. "The song is a powerful tribute to residential school survivors and the culmination of our students' learning experiences. I think the take away is words have power and, even as children, they too can make a difference. Going forward, our goal is to continue to grow together as a school in a way that promotes kindness, respect and trust amongst all people in our community."
Throughout the next year, Westboro Elementary plans to complete the remaining Project of Heart steps and find new ways to incorporate more Indigenous content in the classroom lessons and activities.
Representatives of the media, school families and community members are invited to join students from Westboro Elementary for the release of its debut song and music video and to learn more about the project.
Event Details:
Date: June 21, 2018
Time: 1 p.m. to 1:45 p.m.
Place: 1078 Strathcona Dr.; Sherwood Park
Video: available at www.westboroelementary.ca, as of 2 p.m. on June 21.
Photo Op: video unveiling; recording of the video; students performing Stand as One; students hearing and seeing the video for the first time
NOTE: Principals have the responsibility to limit media coverage only to students approved for interviews. Reporters attending the event are requested to receive permission from a school EIPS representative before interviewing or photographing students. Thank you for your co-operation, and for joining.

–30–
For more information contact:
Mike Lastiwka, Principal, Westboro Elementary, 780-467-7751
Laura McNabb, Director, Communication Services, EIPS 780-417-8204 cell 780-405-4902