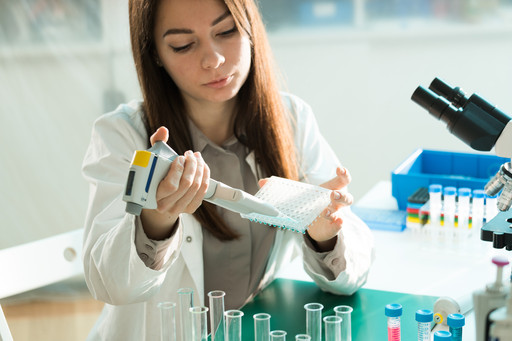 Ardrossan, AB. — When classmates ask Hannah Bayne, a Grade 11 student at Ardrossan Junior Senior High, what she did this summer, she'll have quite the story to tell.
For the last six weeks, Bayne has taken on the prestigious role of  science researcher with the University of Alberta as part of the Women in Scholarship, Engineering, Science and Technology (WISEST) Summer Program—a University of Alberta initiative aimed at getting more females involved in the science, technology, engineering and math (STEM) sectors. Throughout the summer, she and 36 other students were hired as research assistants and mentored by an experienced professional at the University.
"It was an excellent experience and a stepping stone, for sure, towards my goal of becoming a scientist," says Bayne. "To spend the summer doing research only solidified my passion for science. I'm excited to show-off the work I've been doing."
For her research, Bayne worked with Mike Fleischauer, a Research Officer at the National Research Council's Nanotechnology Research Centre and an adjunct professor of physics at the University. Fleischauer and his team are looking at ways to understand and improve the performance of lithium-ion batteries in harsh environments. Bayne's work focused on improving the temperature control system and investigating how materials within the battery change with temperature—skills that will benefit her later on in her studies.
"WISEST is a win-win for both students and supervisors," says Fleischauer. "They get to see what research looks like in the real world and we get an opportunity to help develop the next generation of researchers. Plus, Bayne has been a huge addition to the team, allowing us to work on more things in parallel."
To conclude the program, Bayne presented her research findings at WISEST Celebration of Research, where family, friends, dignitaries and the public shared in the results of the program.  "Looking around at all of the research, I was filled with pride at what each of us had accomplished in six short weeks," says Bayne. "It's reassured me that many intelligent and capable young scientists will soon be entering into the STEM fields."
In addition to gaining experience in STEM research, participating students also took part in weekly Lunch n' Learn sessions. The sessions were informal information gatherings that help supplement the work done in the lab, covering topics such as networking, report writing and work ethic while also offering participants the chance to connect with other students in the program.
"I enjoyed learning more about the research sector," says Bayne. "Having the chance to see what goes into designing, conducting and presenting an experiment was fascinating and will help build a foundation for the rest of my educational journey."
Ardrossan Junior Senior High serves approximately 860 students in grades 8 to 12 and is one of 42 schools within Elk Island Public Schools. More information about the school is available by visiting www.ardrossan.ca.
–30–
For more information contact:
Laura McNabb, Director, Communication Services, EIPS 780-417-8204 cell 780-405-4902