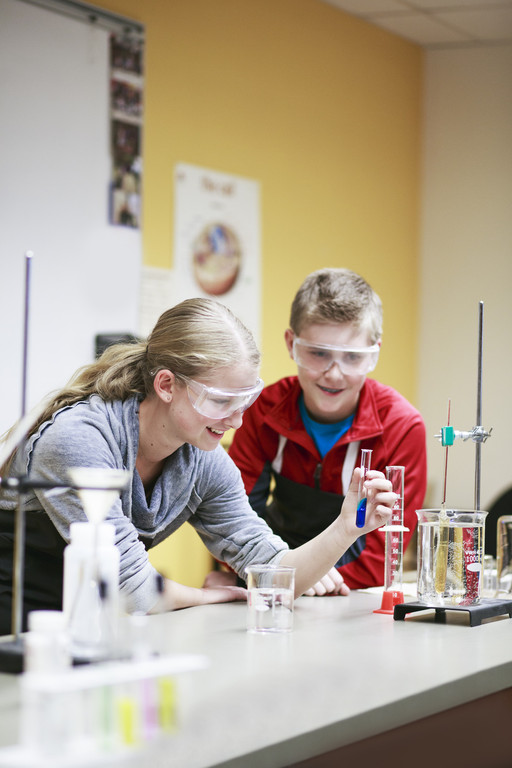 Sherwood Park, AB. — Close to 250 junior high scientists from across Elk Island Public Schools (EIPS), Elk Island Catholic Schools and Sturgeon Public School Division are getting the opportunity to dive into a variety of hands-on science activities during the 2018 Young Scientist Conference on May 12. "I'm excited to go and have an opportunity to discover new branches of science I haven't thought about before," says Allie Oneschuk, a Grade 9 student at Vegreville Composite High. "The sciences have always intrigued me. So, I'm happy to be spending the day with others who feel the same way."
Throughout the day, students in grades 7 to 9 are taking part in three small group sessions of their choosing to learn more about the role science plays in their daily lives. Session topics include understanding archaeology, computer coding, mammalian brain surgery, investigating accident scenes, wildlife rehabilitation, DNA extraction and more. "The Young Scientist Conference offers students the chance to see science at work in a variety of disciplines, to participate in hands-on activities and learn from a number of science professionals," says Barb Percy, a numeracy consultant at EIPS. "Year after year, our students come away from the conference amazed by the range of topics in which they've participated throughout the day."
The keynote speaker is Ania Ulrich, an associate professor in the Department of Civil and Environmental Engineering at the University of Alberta, and an industry expert in environmental site assessment and remediation who specializes in the oilsands tailings. Ulrich will share some of her experiences with students, offer examples of the work being done in the industry and discuss why they too should consider a career in the sciences.
The final activity planned for the day is an engineering challenge, which requires that participants solve a particular science-related problem. The winning school will take home the annual Young Scientist Conference banner, which can be displayed at the school year-round.
Hosted by the U of A, the Young Scientist Conference is an annual event that encourages students to discover science. This year's sponsor is Sherritt International Corp. "We are proud to be sponsoring the Young Scientist Conference," says Poonam Madan, a senior sustainability advisor for the Fort Saskatchewan refinery operations at Sherritt International. "It allows children to engage with science and, perhaps one day, pursue a meaningful career in the field to help companies such as ours develop innovative and creative solutions."
Representatives of the media are invited to join students as they take part in this year's Young Scientist Conference activities.
Event Details:
Date: May 12, 2018
Time: 9 a.m. to 3 p.m.
Location: Centennial Centre for Interdisciplinary Science, University of Alberta, 11335 Saskatchewan Dr., Edmonton
EIPS is one of Alberta's largest school divisions, serving approximately 17,100 students in 42 schools. We are proud to be an integral part of our communities, including Sherwood Park, Fort Saskatchewan, Vegreville, Strathcona and Lamont counties, and the western portion of the County of Minburn.
–30–
For more information contact:
Barb Percy, numeracy consultant, Supports for Students, EIPS 780-417-8114
Laura McNabb, director, Communication Services, EIPS 780-417-8204 cell 780-405-4902