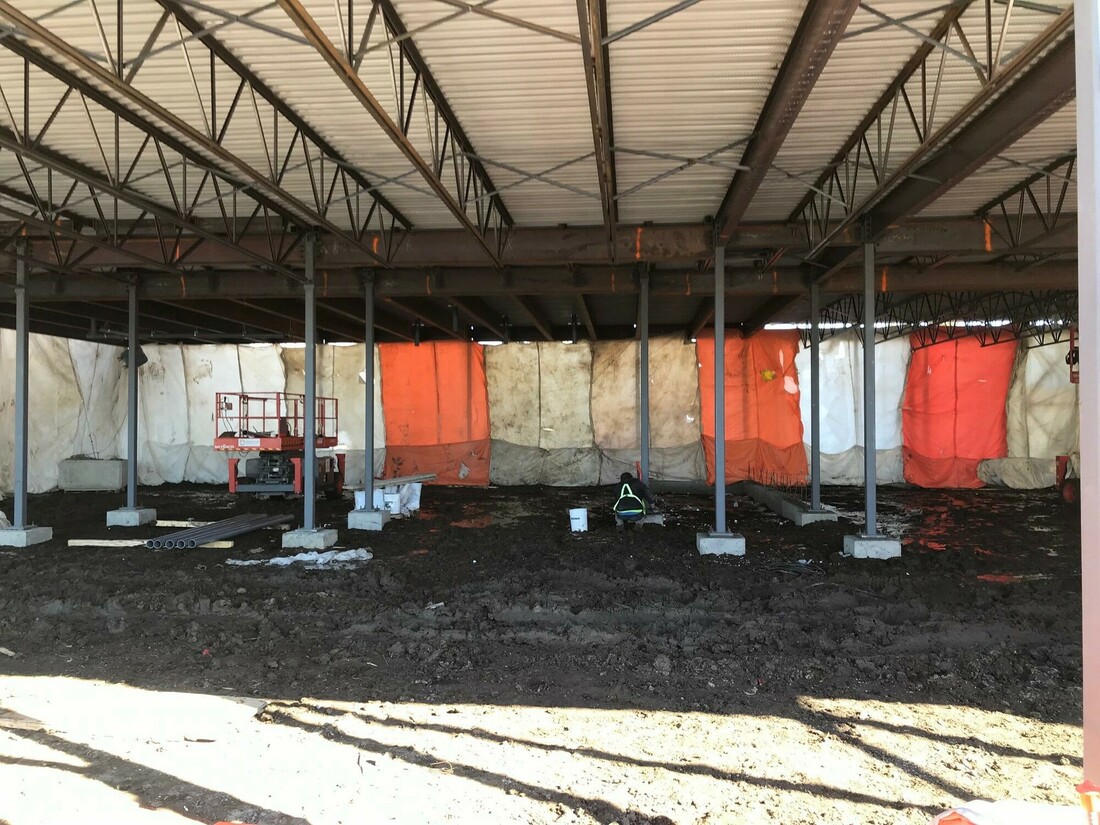 For the week of March 24-30, 2019:
Masonry for the south and east gym walls is complete.
Scaffold is going up for masonry work on the north and west gym walls. 1
Mechanical and electrical rough-in at masonry walls continues.
Division 1 (east section of the building):

Second floor slab preparation has begun. Mechanical and electrical slab rough-in has begun.
Heating and hoarding is set up for the first slab-on-deck pour; pour scheduled for early this week. 1 2
Exterior steel stub installation has begun on the main floor, north wall. Installation on the second floor is scheduled to start this week.

Division 3 (west section of the building):

Structural steel installation continues.
Metal deck installation is scheduled to begin on March 26.

Mechanical and electrical rough-in on second floor and the underside of the deck has begun.
Parapet work is scheduled to begin this week.
Removal of topsoil and marginal material stockpiles is complete.
1 When masonry work and concrete pours take place, propane heaters will be required to maintain a consistent temperature. Heaters will run continuously during this time—day and night, as needed—whenever the temperature is below freezing.
While the noise output of these heaters is not generally above that outlined in the Strathcona County noise bylaw, the contractor, Clark Builders, has submitted for and received permits for the use of these heaters while the masonry work takes place.
2 On the day of the pour, the trowel machine will work into the evening. The machine is expected to work until approximately 9 p.m. unless something unforeseen happens.