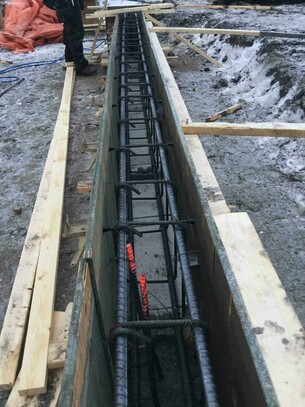 For the week of Jan. 13-19, 2019:
Grade beam Area 2 pour was completed on Jan. 7, 2019.
Forming for grade beam Area 3 has begun. Area 3 pour is scheduled for today, Jan. 15, 2019. *
Detailed excavation for grade beam Area 4 continues.
Masonry work on the east stairwell and elevator shaft is scheduled to begin on Jan. 23, 2019. *
*NOTE: When concrete pouring and masonry work takes place, propane heaters will be required during the day and overnight to maintain a consistent temperature while curing takes place. Like a house furnace, these heaters are controlled by a thermostat and turn on and off as needed to maintain a consistent temperature. In colder weather, they may run continuously especially overnight. After each pour, heaters are required for three days while the concrete cures. Heaters will also run continuously while masonry work takes place as long as the temperature is below freezing.
While the noise output of these heaters is not generally above that outlined in the Strathcona County noise bylaw, the contractor, Clark Builders, has submitted for and received permits for the use of these heaters while the concrete pours are taking place. Clark Builders will also submit a permit application for the use of these heaters related to the masonry work later in January.