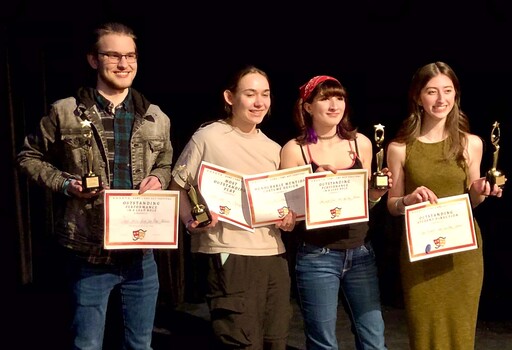 Sherwood Park, AB. — Elk Island Public Schools (EIPS) students from Ardrossan Junior Senior High are set to perform at the One Act Play Festival, a provincial showcase of high school theatre. Organized by the Alberta High School Drama Association, this year's showcase will take place in Red Deer from May 4 to 6.
At the festival, Ardrossan's cast and crew of the play "Never Swim Alone" will be representing the area east of Edmonton called Zone 3, along with Lloydminster Comprehensive High. Students will showcase their play, attend theatre workshops and view numerous productions from all across the province.
"I'm ecstatic to present our one-act play at provincials," says Megan Alexander, a Grade 12 student at Ardrossan Junior Senior High and the director of the play. "It's been a dream to watch my vision come to life and I can't wait to see it elevated on the big stage at the Polytechnic theatre. It's also been an honour to have my work taken so seriously and valued so highly by adjudicators and our previous audiences."
At the Zone 3 regional festival, Alexander won Most Outstanding Student Director for her dedication, innovation and ambition. She wanted to produce a bold piece that didn't follow a traditional narrative style. "After reading Will Eno's play Middletown in English this year, I knew I wanted to do something more challenging, more metaphorical than literal."
"Never Swim Alone" is a story about two men who revisit a traumatic moment from their childhood which has followed them into their adult lives. It's a challenging play that involves speaking in unison, repetition and rhythm. Both Jacob Stovius and Jamie Arnal were awarded Most Outstanding Performance by an Actor in a Lead Role for their breathtaking performances as the two men. Additionally, Arden Slywka was superb in her supporting role as the Referee, while also taking a lead role in a second production selected for zones.
"I'm so happy for all the kids," says Carmelita Pater, a drama teacher at Ardrossan Junior Senior High. "They worked so hard both in and out of class to make this happen. The production was student run, so their success is all their own—I'm proud of that."
Pater firmly believes drama prepares students for life after high school. "Drama is for everyone, and drama skills are real-life skills," says Pater. "Participating in theatre helps create strong bonds, empathy for others and a sense of community. The creative process of a drama production facilitates moments of leadership, collaboration and a lot of creative problem-solving. Other concrete skills include memorization, improvisation and public speaking, which can be beneficial to any job or career."
Ardrossan Drama would like to recognize EIPS and Chemco for their financial support in helping students attend the One Act Play Festival.
"As someone who's spent a lot of time acting on stage, this project has allowed me to explore every facet of theatre," adds Alexander. "I've learned so much throughout this process—not just about directing—but also about storytelling and communicating with an audience. Most of all, I've realized theatre is something I want to stay involved in after high school, whether that be acting, directing, or maybe even writing!"
Elk Island Public Schools is one of Alberta's largest school divisions, serving approximately 17,460 students in 43 schools. We are proud to be an integral part of our communities, including Sherwood Park, Fort Saskatchewan, Vegreville, Strathcona and Lamont counties, and the western portion of the County of Minburn.
–30–
For more information contact:
Laura McNabb, Director, Communication Services, EIPS 780-417-8204 cell 780-405-4902