Bus Status 4 is Now Available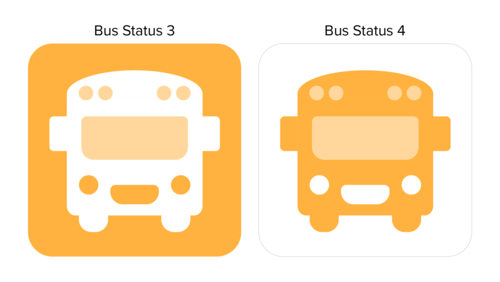 Q.  Do app users need to install the new Bus Status 4 App?
Yes, app users will need to visit the App Store or Google Play to download Bus Status 4 manually. App users with Bus Status 3 installed on their phones will not receive an automatic update to Bus Status 4.
Q.  Why does Bus Status have a new app?
Mobile app technology is constantly moving forward, and it was time to create an even faster, more reliable experience for Bus Status users. Bus Status 4 has the same features and functionality as Bus Status 3, but almost exclusively under-the-hood updates have increased speed and reliability.
Q.  How much longer will users be able to use Bus Status 3?
After Sept. 29, 2023, bus statuses will no longer appear in the Bus Status 3 App.
Q. When can app users download Bus Status 4?
Bus Status 4 is now available. Parents and students are encouraged to download the latest version before the first day of school.
Now that Bus Status 4 is available, the Bus Status 3 App has been removed from the stores. There will only be one version of the Bus Status app available to download.
Q.  How does someone know which Bus Status App they have?
Bus Status 4 features a different colour for the app icon—a yellow bus on a white background.
Users can also check the version of their app by opening the app, tapping on "District" in the bottom right, and viewing the App Version listed there. Version 3.0.9 will be retired in September 2023 and version 4.0.0 is the new version that will continue to be supported.