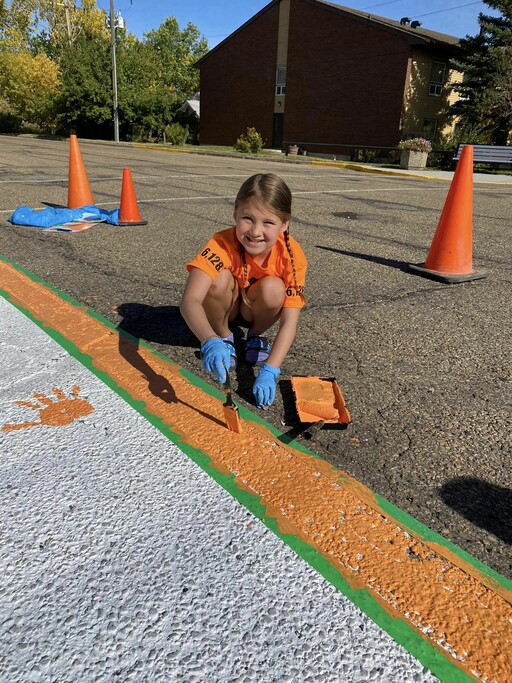 Sherwood Park, AB. — An Elk Island Public Schools (EIPS) student is helping spread awareness about the lasting effects of residential schools. McKenna Bonner, a Grade 4 student at Bruderheim School, recently got the OK from the town to paint a local sidewalk orange. The goal was two-fold: To help build understanding about the importance of reconciliation and recognize the National Day for Truth and Reconciliation on September 30.
"I told the town I wanted to bring awareness to the community," says Bonner. "I know residential schools are now closed down, but the effect it still has on my generation is huge. I want people to be aware this problem is still going on, and all children matter."
Earlier this month, Bonner went to Bruderheim Town Council and asked permission for her, and a few community members, to paint the sidewalk orange by Bruderheim's community hall. At the meeting, she shared her family's First Nations heritage, their history with residential schools and why the project is important to her. Bruderheim's council unanimously accepted and passed the motion to paint the sidewalk orange, which happened on September 25. "I was nervous and scared, but I was brave to present it," she says. "When they accepted my idea, it made me feel proud. I felt like an example for others to learn from."
Today, to mark the National Day for Truth and Reconciliation, Bruderheim School is sharing Bonner's story with the entire school community. "It's amazing to see a young girl take leadership not only in school but also in the larger community," says Janice Vandelannoite, the Indigenous Lead Teacher at Bruderheim School. "It's a perfect introduction to the day. It's a reminder of our collective commitment to reconciliation as we strive to be loving and accepting while also reflecting and learning from past actions."
Each year, students and staff throughout EIPS commemorate the National Day for Truth and Reconciliation by wearing orange and taking part in lessons focused on Indigenous education. The day coincides with Orange Shirt Day and is intended to acknowledge the history of residential schools, remember the victims and honour the Survivors. The official day takes place on September 30—a Division closure day. As such, schools mark the day annually on September 29.
"In my experience, students are great teachers, and we learn so much from them," says Jeremy Albert, the First Nations, Métis and Inuit Education Advisor at EIPS. "While they generally experience feelings of sadness and anger when learning about residential schools, they approach what they learn with so much empathy for what Indigenous students experienced. They are open to learning more about the beauty of Indigenous peoples and cultures. I feel by learning this history, it creates an entire new generation of learners who know the true history of this country and, as our future leaders, will ensure this doesn't happen to anyone again."
Throughout the day, EIPS staff will lead students through activities to deepen their understanding of Indigenous culture and the effects of colonization. Activities include stories of Survivors, lessons about the context of residential schools within our shared history and engaging in the topic through art, storytelling and dialogue.
Elk Island Public Schools is one of Alberta's largest school divisions, serving approximately 17,125 students in 43 schools. We are proud to be an integral part of our communities, including Sherwood Park, Fort Saskatchewan, Vegreville, Strathcona and Lamont counties and the western portion of the County of Minburn.
RELATED INFORMATION:
National Day for Truth and Reconciliation
Orange Shirt Day
–30–
For more information contact:
Laura McNabb, Director, Communication Services, EIPS 780-417-8204 cell 780-405-4902