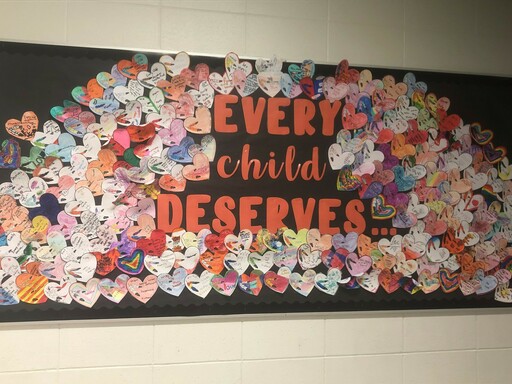 Sherwood Park, AB. — To commemorate the National Day for Truth and Reconciliation, now recognized as a federal holiday, students and staff throughout Elk Island Public Schools (EIPS) are wearing orange T-shirts to school today. The day coincides with Orange Shirt Day and is intended to remind Canadians about the history of residential schools, remember the victims and honour the survivors. The actual day takes place on September 30, which the EIPS Board of Trustees declared a divisionwide school-closure day.
"We've honoured Orange Shirt Day and its importance for a few years already," says Trina Boymook, the Board Chair of EIPS. "Now that the day is also recognized federally as the National Day for Truth and Reconciliation, it makes sense to also officially recognized it divisionwide. Collectively, we have a long way to go in our journey of reconciliation, so this is another way of continuing the conversation and facilitating a deeper understanding."
Orange Shirt Day is inspired by the experience of residential school Survivor Phyllis Webstad, who attended the St. Joseph's Mission School in British Columbia in 1973. Webstad's grandmother gave her a shiny new orange shirt to wear on her first day of school, which she wore with pride. When she arrived at school, her new teachers took the shirt, along with the rest of her clothes. Her story symbolizes the stripping away of culture, freedom and self-esteem experienced by First Nations, Métis and Inuit children over generations. The National Day for Truth and Reconciliation honours the spirit and intent of Orange Shirt Day and fulfills the Truth and Reconciliation Commission's (TRC) Call to Action No. 80.
"Because education is an important step on the road toward reconciliation, as outlined by the TRC's Calls to Action, the orange shirt is an easy way to start the conversation with students," says Boymook. "It's an entry point, it helps build empathy, and it's a way to continue to make reconciliation an active practice in our schools, offices and communities."
In addition to wearing orange, schools throughout EIPS spent the week leading up to the National Day for Truth and Reconciliation engaging in activities to deepen knowledge and understanding around the historical and ongoing impacts of residential schools and other acts of colonization. Activities included stories of Survivors, smudging ceremonies, lessons about the context of residential schools within our shared history, and engaging in the topic through art, storytelling and dialogue.
Elk Island Public Schools is one of Alberta's largest school divisions, serving approximately 17,000 students in 43 schools. We are proud to be an integral part of our communities, including Sherwood Park, Fort Saskatchewan, Vegreville, Strathcona and Lamont counties and the western portion of the County of Minburn.
–30–
For more information contact:
Laura McNabb, Director, Communication Services, EIPS 780-417-8204 cell 780-405-4902