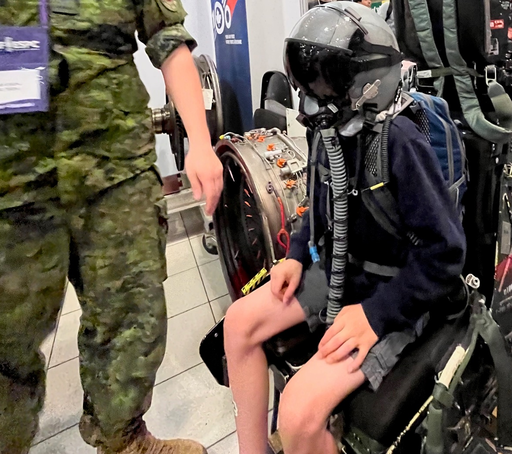 Sherwood Park, AB. — Elk Island Public Schools (EIPS) students ventured into the innovative worlds of science, technology, engineering and mathematics (STEM) at the Canada-Wide Science Fair. Grade 5 classes from Fort Saskatchewan Elementary and Heritage Hills Elementary attended.
This year, the fair returned to Edmonton, bringing together top young scientists and their projects, selected by Youth Science Canada's national network of over 100 regional STEM fairs in every province and territory. "I really liked going to the science fair," says Lincoln Barsness, a Grade 5 student at Fort Saskatchewan Elementary. "I enjoyed learning about diseases and plant life—my favourite part was the experiments."
Students engaged with the finalists about their projects and experienced the fair's STEM Expo, which included interactive and inspiring exhibits featuring ideas and opportunities in STEM. The free event also covered learning outcomes for the classes' Grade 5 science curriculum.
"When I read about this field trip, I knew it'd be an amazing chance for my students to see projects from students across Canada, and in so doing, hopefully see the possibilities their own inquisitive questions can hold," says Laura Simpson, a Grade 5 teacher at Fort Saskatchewan Elementary. "What impressed me the most was the enthusiasm, confidence and future-forward level of higher thinking each competitor displayed. Every young scientist I spoke to demonstrated a thorough understanding of their topic and clearly explained why their project is important for the future of their scientific field. The range of topics and areas of study were impressive, to say the least."
The STEM Expo's hands-on activities included experimenting, coding, games, robotics, Indigenous knowledge, demonstrations and more by companies, agencies, institutions, museums and other STEM-related organizations. "The students loved the exhibitors and the 'swag' they accumulated," says Simpson. "One student won a prize bag from TELUS after a science demonstration, I received a beautiful book on wetlands and another student came close to winning Edmonton Elks tickets."
The Expo's activities focused on engaging experiences similar to the Division's own Partners for Science (P4S) kits. Funded in part through a Division partnership with Dow Chemical, P4S kits nurture natural curiosity through exciting interactive lessons. The program is dedicated to developing engaged, lifelong learners who can approach real-world problems and create solutions with confidence.
"I really liked seeing the military at the fair because I want to be like them," says Kash Robertson, a Grade 5 student at Fort Saskatchewan Elementary. "I also liked trying on their equipment."
Elk Island Public Schools is one of Alberta's largest school divisions, serving approximately 17,460 students in 43 schools. We are proud to be an integral part of our communities, including Sherwood Park, Fort Saskatchewan, Vegreville, Strathcona and Lamont counties, and the western portion of the County of Minburn.
RELATED INFORMATION:
Youth Science Canada: Canada-Wide Science Fair
EIPS Partners for Science
–30–
For more information contact:
Laura McNabb, Director, Communication Services, EIPS 780-417-8204 cell 780-405-4902