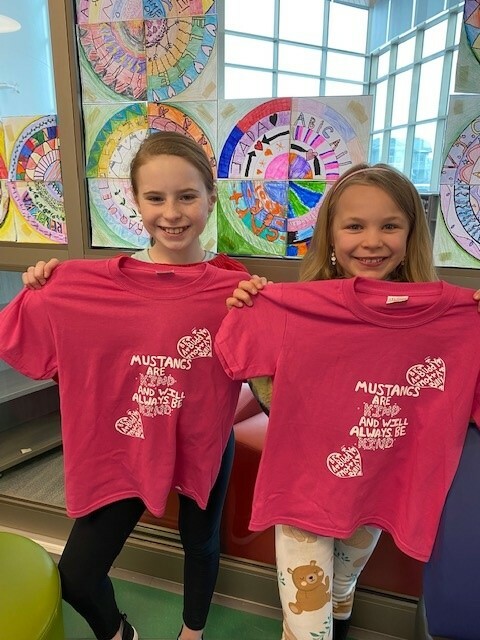 Sherwood Park, AB. — Today, students and staff throughout Elk Island Public Schools (EIPS) are donning pink shirts and finding creative ways to lift each other up to celebrate Pink Shirt Day 2022.
Divisionwide, students and staff are participating in Pink Shirt Day, an annual event to promote kindness, healthy relationships and bullying prevention. Launched in 2007, the movement started after two high school students in Nova Scotia witnessed a younger student being bullied for wearing a pink shirt. The next day, they brought 50 pink t-shirts to school and encouraged classmates to wear them to take a stand against bullying. The concept took hold. Today, Pink Shirt Day is celebrated in schools and workplaces countrywide and has raised more than $2.69 million for healthy relationship programming across Western Canada.
"This year's theme for Pink Shirt Day is particularly fitting, it's 'lift each other up,'" says Trina Boymook, the Board Chair of EIPS. "The last two years have been a rollercoaster for everyone. We've had to deal with public-health restrictions, learning and working at home, ongoing COVID-19 waves, and it's taken a toll on all of us. I can't think of a better theme because now, more than ever, we need to support one another and lift each other up."
That's precisely what students are doing throughout the Division. Schools have various activities planned—all focused on spreading kindness, embracing differences, working together and supporting each other. Some of this year's activities include assemblies, announcements, presentations, t-shirt contests, bulletin-board displays, book readings, lessons plans, plus more. EIPS schools also have ongoing projects and initiatives in place geared toward kindness and building healthy relationships in the school and the community. Some examples include the Seven Scared Teachings, Random Acts of Kindness, The Fourth R, Bucket Fillers, Leader in Me and various community-service programs.
"Promoting welcoming, caring, respectful and safe learning spaces for students year-round is one of EIPS' key priorities," says Boymook. "Pink Shirt Day is one of several ways we do this. Collectively, these reinforce student engagement, school spirit and a school culture of kindness for everyone to feel supported and welcomed."
In addition to wearing pink and school activities, EIPS students and staff are also showing their support for Pink Shirt Day by posting messages about the importance of empathy and kindness on various social media platforms using the hashtag #PinkShirtDay.
Some of the Pink Shirt Day events taking place within EIPS include:
A.L. Horton Elementary: Students are starting the day with announcements about kindness, building empathy and Pink Shirt Day's origins. They'll also read stories about healthy relationship building, and take part in a kindness challenge and a pink shirt decorating activity.
Davidson Creek Elementary: Staff and students are wearing a special pink shirt this year—one designed by students. Earlier this year, the school held a t-shirt contest, and the top two designs were made into a Davidson Creek Elementary Pink Shirt Day t-shirt. Students are also participating in various activities, all aimed at lifting each other up.
Fort Saskatchewan Christian: Students are taking part in a Bucket-Filling Challenge. They're reading and discussing Carol McCloud's book entitled, Have You Filled a Bucket Today? Then, they're being tasked with writing and sharing positive messages that will fill others' buckets. Students are also participating in a colouring contest, based on McCloud's book—the winners will take home a copy of Have You Filled a Bucket Today.
Lamont Elementary: Students are taking part in a reading, and discussion of Todd Parrs' book entitled, It's Okay to be Different. As well, everyone within the school's creating a self-portrait. Once complete, the school will combine all the artwork and display the portraits together as a mural celebrating Lamont Elementary's differences and uniqueness.


Elk Island Public Schools is one of Alberta's largest school divisions, serving approximately 17,125 students in 43 schools. We are proud to be an integral part of our communities, including Sherwood Park, Fort Saskatchewan, Vegreville, Strathcona and Lamont counties and the western portion of the County of Minburn. To learn more visit www.eips.ca.
–30–
For more information contact:
Laura McNabb, Director, Communication Services, EIPS 780-417-8204 cell 780-405-4902