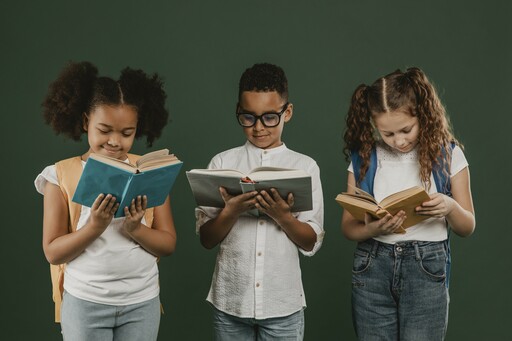 Sherwood Park, AB. — Elk Island Public Schools (EIPS) staff and students are celebrating Read In Week 2023 through various activities from October 2-6.
Read In Week is a divisionwide initiative that takes place annually to promote a lifelong love of reading in students and enhance literacy awareness among students, staff, families and community members. This year's theme is Read In Reimagined. Students will spend the week exploring the world through stories, connecting through text and discovering what reading means to them.
This year, teachers have access to an interactive poster filled with activities, including virtual read alouds from leaders across the Division. "We're reimagining reading and encouraging our EIPS community to discover the power of 'if,'" says Kristen Rosato, the Literacy and Social Studies Consultant at EIPS. "What if… we explored diverse genres? Traveled to new destinations through the pages of a book? Made connections to the land? Or, listened to perspectives different than our own? Students and staff are diving into a world of possibility through simply reimagining how they connect to text."
Upcoming Read In Week activities planned within the Division include guest readers, colouring contests, bookmark making, buddy reading, guessing games, favourite book character dress-up days, outdoor reading activities and more. School-specific details include:
A.L. Horton Elementary, École Parc Élémentaire, James Mowat Elementary: The three schools are having their respective communities involved in their weeks of reading. A.L. Horton Elementary is having various citizens from Vegreville come in to read, while École Parc Élémentaire and James Mowat Elementary have Fort Saskatchewan Public Library staff visiting and presenting to classes.
Bev Facey Community High and Glen Allan Elementary: Leadership and Theatrical Arts students from Bev Facey Community High are visiting Glen Allan Elementary two times during Read In Week for buddy reading sessions.
Bruderheim School: Students from grades 1-6 will design a book cover and hear from guest readers, both in person and virtually.
Davidson Creek Elementary: The school is having parents and caregivers visit to read to their children. On October 4, Davidson Creek Elementary will host a Family Literacy Evening, which will include a used book sale, literacy sessions and Indigenous storytelling.
École Campbelltown: Strathcona County Mayor Rod Frank came in to read to grades 3 and 6 students on October 2. Later in the week, the Sherwood Park Crusaders will visit to read to all the classes at the school.
Fort Saskatchewan Elementary: Teachers will swap classrooms and read to students in their buddy class. Students in grades 4-6 will learn about the Young Reader's Choice Awards and who the 2024 nominees are.
Pine Street Elementary: To encourage students to read at home, the school is asking students to keep track of their reading each night for the chance to win a book prize.
Win Ferguson Elementary: To reimagine reading, the school is focusing on Fractured Fairytales. There'll be a schoolwide activity where classes will hear an original fairytale and then hear a reimagined version of that same story in two other classrooms. Students may also complete an optional poster art activity, reimagining their favourite stories or characters mashed together.
In addition to school activities, staff, students, families and community members are invited to participate in Read In Week by reading themselves, to a child or to someone in the community. EIPS also encourages everyone to share what they learn during Read In Week 2023 by posting their own stories on social media using the hashtag #EIPSreads.
Elk Island Public Schools is one of Alberta's largest school divisions, serving approximately 17,500 students in 42 schools. We are proud to be an integral part of our communities, including Sherwood Park, Fort Saskatchewan, Vegreville, Strathcona and Lamont counties, and the western portion of the County of Minburn.
–30–
For more information contact:
Laura McNabb, Director, Communication Services, EIPS 780-417-8204 cell 780-405-4902