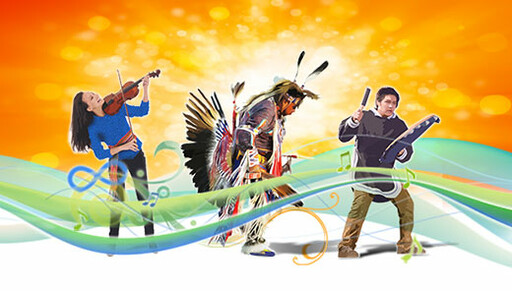 Sherwood Park, AB. — Storytelling, music, dance and food are all playing a part in this year's National Indigenous Peoples Day festivities, taking place throughout Elk Island Public Schools (EIPS) today. Divisionwide, students and staff are participating in activities aimed at recognizing and learning about the historic and present-day contributions of Indigenous Peoples. "I'm excited because we've spent a lot of time learning about First Nations, Inuit and Métis history and culture," says Chandrika Radke, a Grade 4 student at Woodbridge Farms Elementary. "The games are fun, the snacks are good and it's important because it's about celebrating our history and Indigenous culture."
Four years ago, shortly after the Truth and Reconciliation Commission of Canada released its 94 Calls to Action, EIPS hired a consultant to lead the launch of EIPS' First Nations, Inuit and Métis Centre. The goal: To engage students, at every grade level, about First Nations, Inuit and Métis history, perspectives and traditions. "We started slow, we had to, the calls to action had just been introduced, and there was so much we didn't know yet," says Kyla Sorel, a First Nations, Inuit and Métis consultant at EIPS. "Early on in the process, we discovered, to create deep understanding and to tell these powerful truths we had to access people's hearts. And, to do that, we needed to be in relationship with Indigenous Peoples."
Enter Elder Wilson Bearhead, a member of the Wabamun Lake Indian Band who served as a Chief in his community, the Grand Chief of the Confederacy of Treaty 6 First Nations and Alberta Regional Chief for the Assembly of First Nations. He joined EIPS in 2016, at that time only visiting a small handful of schools. During his visits, he worked with teachers and students offering hands-on learning experiences aimed at deepening knowledge and facilitating understanding around Indigenous education. Word spread quickly. Soon, more and more schools wanted to get involved. "Schools wanted to embrace Elder Wilson's work," says Sorel. "It grew organically and I think that's because of how he makes people feel when they're around him. When he comes to a school, everyone's faces light up. There's this excitement. What he teaches is to be present, to be curious and that the journey we're on is worth it."
Now, after four years, almost every school within the Division is in relationship with either Elder Wilson or another Elder from the community. Schools are embedding Indigenous perspectives into the curriculum—through land-based learning, traditional oral histories, the Seven Sacred Teachings of love, respect, courage, honesty, wisdom, humility and truth; participating in lesson plans such as the Project of Heart and the Blanket Exercise; and hearing stories from intergenerational residential-school survivors. As a result, a dialogue is developing between Indigenous and non-Indigenous communities and the hope is this will lead to healing through a shared experience. "That relationship is key," says Cheryl Devin, who is also a First Nations, Inuit and Métis consultant at EIPS. "When you're in relationship you're talking about humanity, about people. We're not talking about pages in a textbook or something on TV that's removed. And, through relationship, students can make a connection between a story and a person they've grown to respect so that change can start to take place."
As a way to honour that learning, schools across the Division are celebrating National Indigenous Peoples Day by hosting assemblies and guest speakers, organizing round dances and games and serving up traditional Indigenous foods. "These are wonderful, beautiful events we're all looking forward to," says Devin. "They are also the tip of the iceberg of all of that work that went underneath it—the being in relationship, the deep knowledge and the commitment to continue to build capacity and develop understanding of Métis, Inuit and First Nations cultures and the history we all share on this land."
National Indigenous Peoples Day is a nationally recognized day for all Canadians to celebrate the unique heritage, diverse cultures and outstanding contributions of First Nations, Inuit and Métis people. The day was chosen as National Indigenous Peoples Day because the cultural significance of the summer solstice—the first day of summer and the longest day of the year—and a day many Indigenous groups traditionally celebrate their heritage.
Members of the media, families and community are invited to join EIPS students for the following National Indigenous Peoples Day events:
Woodbridge Farms Elementary: A morning celebration that includes an assembly; storytelling and teachings from Elders; traditional Indigenous food, tea and games; and a round dance.
Date: June 21, 2019
Time: 8:45 a.m. to 12 p.m.
Location: Woodbridge Farms Elementary; 1127 Parker Dr.; Sherwood Park
Family Gathering Lunch: Fort Saskatchewan Elementary and Fort Saskatchewan High are hosting a lunch for students, staff and family members, which will also include traditional Indigenous games and teachings learned throughout the year from Elder Wilson Bearhead.
Date: June 21, 2019
Time: 11:50 a.m. to 12:45 p.m.
Location: Fort Saskatchewan Elementary; 9802 101 St.; Fort Saskatchewan
NOTE: Principals have the responsibility to limit media coverage only to students approved for interviews. Reporters attending the event are requested to receive permission from a school EIPS representative before interviewing or photographing students. Thank you for your co-operation, and for joining us.
–30–
For more information contact:
Laura McNabb, Director, Communication Services, EIPS 780-417-8204 cell 780-405-4902