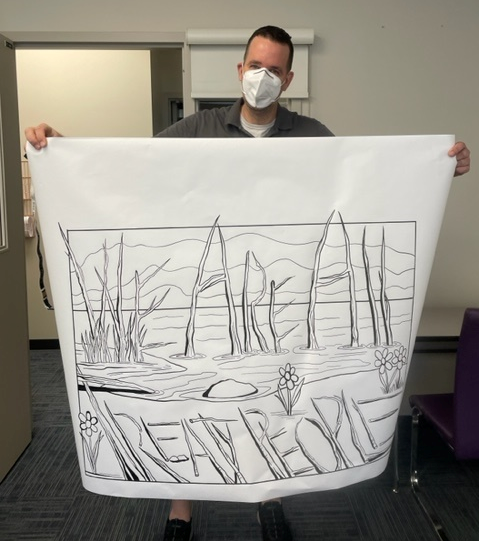 Sherwood Park, AB. — Elk Island Public Schools (EIPS) students and staff connected with the land this National Indigenous Peoples Day. Schools across the Division hosted a Lunch on the Land to travel outside and appreciate the nature that surrounds them. They also took part in a variety of activities focused on recognizing and learning about the histories, cultures and perspectives of Indigenous Peoples.
For Vegreville Composite High, National Indigenous Peoples Day activities spanned throughout the school grounds. During lunch hour, students selected from four stations: feather chalk art outside the front doors, dot art in the hallways, crafts with their Mental Health Capacity Building liaison, or Indigenous games in the gymnasium.
Randy Pond, an art teacher at the school, also designed two large banners that were available in the cafeteria for all classes to access throughout the day. Students coloured these banners, which will be displayed in the hallways during the first week of the 2023-24 school year. The banners will serve as a welcome back and reminder of walking together in reconciliation.
"As we come to the end of this school year, we're reminded of our priorities and goals," says Trina Boymook, the Board Chair of EIPS. "One of which is that self-identified First Nations, Métis and Inuit students are engaged in holistic, lifelong learning that is culturally relevant and fosters success. I'm proud of the work done this year throughout the Division to achieve this outcome, and I'm excited to see what next year brings."
Other activities in EIPS included assemblies and guest speakers, organizing round dances and games and serving up traditional Indigenous foods. National Indigenous Peoples Day is a nationally recognized day for all Canadians to celebrate the unique heritage, diverse cultures and outstanding contributions of First Nations, Métis and Inuit people. The day was chosen as National Indigenous Peoples Day because of the cultural significance of the summer solstice—the first day of summer and the longest day of the year—and a day many Indigenous groups traditionally celebrate their heritage.
For more information on EIPS First Nations, Métis and Inuit education visit eips.ca.
Elk Island Public Schools is one of Alberta's largest school divisions, serving approximately 17,460 students in 43 schools. We are proud to be an integral part of our communities, including Sherwood Park, Fort Saskatchewan, Vegreville, Strathcona and Lamont counties, and the western portion of the County of Minburn.
–30–
For more information contact:
Laura McNabb, Director, Communication Services, EIPS 780-417-8204 cell 780-405-4902