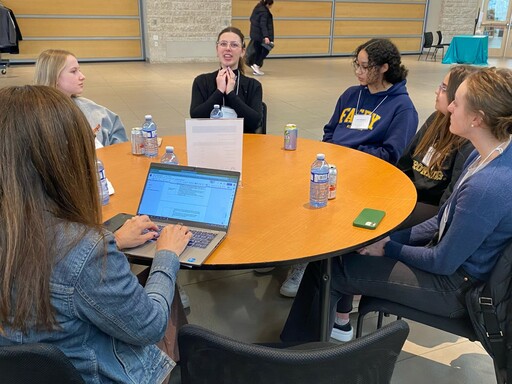 Sherwood Park, AB. — Close to 80 students from Elk Island Public Schools took centre stage at a divisionwide engagement session this week. On April 12, students from junior high and senior high schools throughout EIPS gathered to share ideas at the Division's Student Forum 2022. Led and facilitated by EIPS, the forum focused on career pathways and student well-being.
"The experience was impactful and validating," says Jada Middleton, a Grade 12 student at Bev Facey Community High. "We discussed mental health, diversity, financial literacy and effective student supports. I believe having these conversations are deeply important and beneficial for our future students. My hope is the Division takes the information provided and develops new and old supports to help improve students' educational experience."
Last year, the EIPS Board of Trustees surveyed families, staff, students and community members to gauge its progress toward meeting the priorities, goals and outcomes outlined in the Division's Four-Year Education Plan and help guide future decision-making. The feedback demonstrated two key areas are critically important to all stakeholder groups: One, preparing students for life beyond high school, and two, student mental health and well-being. Since conducting the survey, the Division's solicited additional feedback from the school community in both areas, and now students.
Using the World Café style—a technique used to facilitate open discussions and link ideas within a larger group—Grade 9 and Grade 12 students from across EIPS shared their thoughts on those two key areas: how the Division can better prepare and transition students for life after senior high and enhance the supports it provides for student mental health and well-being.
"For both the Board of Trustees and the Division, it's important we provide opportunities for students to have their voices heard," says Trina Boymook, the Board Chair at EIPS. "The decisions we make directly impact their learning. So, hearing first-hand how they feel and think helps us make informed decisions. The forum did exactly that. Students—representing schools throughout the Division—came together, connected and shared ideas we'll use to enhance learning and student supports. Overall, they felt involved in the decision process and empowered to open up in a candid manner, which is the whole purpose of a student forum."
Over the coming weeks, EIPS will review the responses from the Student Forum, along with feedback it has gathered from staff, families and community members, to update its priority strategies related to career pathways and student well-being. It will also use the data to inform the new EIPS Four-Year Education Plan and develop individual school education plans. The Four-Year Education Plan and priority strategies are updated annually in May.
Elk Island Public Schools is one of Alberta's largest school divisions, serving approximately 17,125 students in 43 schools. We are proud to be an integral part of our communities, including Sherwood Park, Fort Saskatchewan, Vegreville, Strathcona and Lamont counties and the western portion of the County of Minburn. To learn more visit www.eips.ca.
–30–
For more information contact:
Laura McNabb, Director, Communication Services, EIPS 780-417-8204 cell 780-405-4902