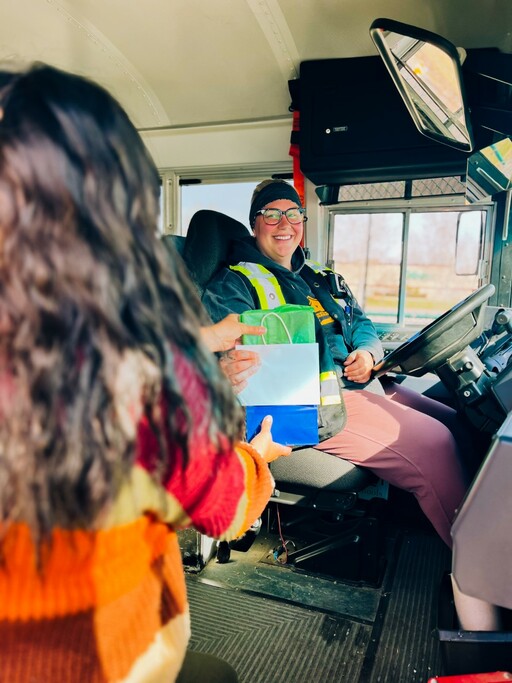 Sherwood Park, AB. — Students and staff across Elk Island Public Schools (EIPS) are celebrating all bus drivers across the Division this Bus Driver Appreciation Day. Not only do bus drivers ensure the safety of students on their trip home, but many also go above and beyond to make daily life brighter for those who ride.
Don Cockburn is one such bus driver. Cockburn was awarded the 2023 Bus Driver of the Year Award from the Student Transportation Association of Alberta. And it's no mystery why—Cockburn's attitude, professionalism and heart of gold make him a worthy recipient.
He's been driving a bus for 33 years and rarely misses a day of work, going out of his way to greet every student when they board his bus. "You need to respect them," says Cockburn, a bus driver contracted for two routes with EIPS. "And you'll get the respect back." He takes the time to get to know the students as individuals and creates true bonds with them throughout the years.
Dawn Henderson is another bus driver who builds connections with riders. "I treat them like they're my own kids," says Henderson, a bus driver contracted with EIPS. "I get them to school and take them home safely—but it's more than that. I work with students and their parents through tough situations individual to each child, such as bus anxiety or disruptive behaviour."
Henderson has been driving a bus since 2014. As such, she's seen her fair share of student transformations. "The most rewarding part of my job is seeing the students grow and change their attitudes," adds Henderson. "They may start off challenging and defiant but then you build a relationship together and by the end, they become the most respectful and helpful riders."
Bus Driver Appreciation Day marks a time to celebrate all the hard work, problem-solving and relationship-building bus drivers do every day. Throughout the week, EIPS' Board of Trustees and employees from Student Transportation will be travelling around the Division to give a token of appreciation to each bus driver contracted with EIPS.
Thank you to every bus driver on routes throughout the Division!
Elk Island Public Schools is one of Alberta's largest school divisions, serving approximately 17,460 students in 43 schools. We are proud to be an integral part of our communities, including Sherwood Park, Fort Saskatchewan, Vegreville, Strathcona and Lamont counties, and the western portion of the County of Minburn.
RELATED INFORMATION:
Student Transportation
STAA Bus Driver of the Year
–30–
For more information contact:
Laura McNabb, Director, Communication Services, EIPS 780-417-8204 cell 780-405-4902