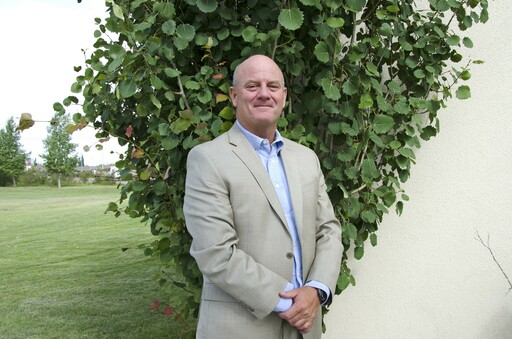 Sherwood Park, AB. — Following a career in education spanning over three decades, Mark Liguori, Superintendent of Elk Island Public Schools (EIPS), has officially announced his retirement. Superintendent Liguori plans to step down as Superintendent at the end of the 2022-23 school year, on June 30.
"I've had a wonderful career and have truly enjoyed finishing my last few years with Elk Island Public Schools," says Superintendent Liguori. "Seeing young people learn, grow and succeed, year after year, has been an honour and a career highlight. I have enjoyed every first day of school, watching student performances, taking part in school events, and wishing graduates the best as they begin the next phase of their lives."
Liguori took on the role of EIPS Superintendent in 2015 and is the Division's longest serving Superintendent. Throughout that time, his impressive background in the education sector has served EIPS well. "EIPS has thrived under Superintendent Liguori's leadership," says Trina Boymook, the EIPS Board Chair. "His vision for providing the best possible educational opportunities for all students provides a consistent focus not just for trustees, but for every employee across the Division. We'll miss his guidance and are grateful for the incredible job he's done."
Superintendent Liguori's career spans more than 35 years. He started in 1987 as a Grade 3 and Physical Education teacher. Since then, he's taught every grade and a variety of subjects in schools. Quickly, his talent for the profession shone through as he moved into to various leadership roles—including assistant principal, principal, director positions and assistant superintendent—within Edmonton Public Schools. And culminating with his appointment as Superintendent with EIPS.
Now at the end of his career, Superintendent Liguori's confident he's leaving EIPS in good hands. "I've been so fortunate to work with such dedicated staff, who on a daily basis ensure the success and well-being of students at EIPS," he says. "Every day, I witness the expertise, passion and commitment from each member of the team—Central Services staff, teachers, support staff, school administration and trustees. Whoever my successor is, that individual will quickly realize what an incredible base of support and knowledge they have to draw upon."
And, in typical Mark Liguori fashion, he has no plans of slowing down. He's looking forward to travelling, spending time with friends and family, and taking advantage of Alberta's wilderness—biking, fishing, hunting, camping and hiking. While he may no longer be involved in the day-to-day operations of a school division, his belief in the value of public education will endure. "I believe a strong public education system builds strong communities. Students learn in an environment that is diverse, inclusive, broad and dynamic. They discover what it means to be part of something bigger than themselves and develop compassion and understanding for those around them. That in turn enhances student achievement, both at school and in life."
Over the next year, as he transitions to retirement and the Board of Trustees recruit a new superintendent, Liguori will work closely with his team to continue realizing the Division's goals and priorities.
Elk Island Public Schools is one of Alberta's largest school divisions, serving approximately 17,460 students in 43 schools. We are proud to be an integral part of our communities, including Sherwood Park, Fort Saskatchewan, Vegreville, Strathcona and Lamont counties, and the western portion of the County of Minburn.
–30–
For more information contact:
Laura McNabb, Director, Communication Services, EIPS 780-417-8204 cell 780-405-4902