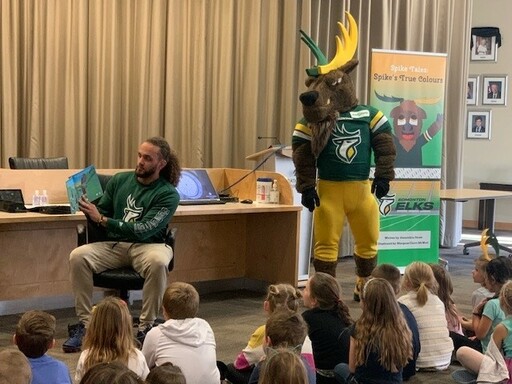 Sherwood Park, AB. — With Bullying Awareness and Prevention Week coming up this month, the spirit of the week is already in full force as Elk Island Public Schools (EIPS) students went to an event focused on belonging and diversity. Thanks to a recent book launch, Glen Allan Elementary classes, grades 1 and 3, learned about the importance of community through the Edmonton Elk's new book Spike Tales: Spike's True Colours.
"I liked Spike and his story," says Taylor Fukala, a grade 1 student at Glen Allan Elementary. "The book is all about him! He's just trying to find a place to belong."
Written by Alexandria Daum and illustrated by Margaux Clair McWatt, Spike Tales brings to life the story of Edmonton Elks mascot Spike and how he finds a place of belonging, cheering on the Elks alongside fans from many different backgrounds. At the launch, the school listened as Aaron Grymes, Edmonton Elks defensive back, read the book and asked students to share their thoughts about the story.
"Students were so excited to see an Edmonton Elks player and mascot," says Chrissy Appleby, the assistant principal at Glen Allan Elementary. "These opportunities are so important because they help students feel like an important part of their community—a key concept introduced to children as early as kindergarten. And the story itself reinforced a strong sense of connection to others and an appreciation for the different gifts we all bring to the table."
Spike Tales also has many ties to the grades 1 and 3 English Language Arts and Science curriculums. The book includes a rhyming scheme and features nature in its art and storytelling—these curricular connections align with EIPS' goal of increasing literacy in young students.
The Edmonton Elks, a community-owned team, strives to reach out and give back to people throughout the Edmonton area and northern Alberta. "We have a large group of players and staff that love to be in the community and help bring positivity to the places we visit. Through events like our book launch, we get to connect with fans and spread joy through the power of football," says Evan Daum, the senior manager of marketing and communications for the Edmonton Elks. "We hope to share the message that there is a place for everyone to flourish and that we all have our own unique skills to share with the world." The Edmonton Elks are selling copies of Spike Tales at the team store, with $2 from every sale going towards supporting literacy programming in the Edmonton area.
"I liked Spike's dance moves," says Fukala. "I want to be like him!"
Elk Island Public Schools is one of Alberta's largest school divisions, serving approximately 17,460 students in 43 schools. We are proud to be an integral part of our communities, including Sherwood Park, Fort Saskatchewan, Vegreville, Strathcona and Lamont counties, and the western portion of the County of Minburn.
–30–
For more information contact:
Laura McNabb, Director, Communication Services, EIPS 780-417-8204 cell 780-405-4902