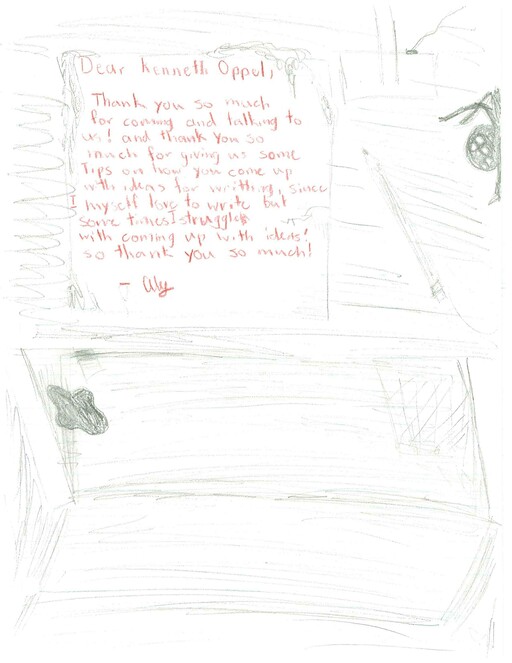 Sherwood Park, AB. — Teachers are used to making impacts within their classrooms, but for most, the job doesn't include a great deal of professional exposure outside one's own school or division. But Rebecca Coates, a Grade 6 teacher at Davidson Creek Elementary, is having a spotlight shone on her work after a novel study she developed was picked up by the novel's author and shared on his website.
Kenneth Oppel's Inkling is a new addition to the course material for Coates and her teaching partners, and as with any new material, Coates had to develop a teaching plan to help guide her lessons. The story itself is about a young boy, Ethan Rylance, who receives some help from a living inkblot to help his family get out of the rut they're stuck in.
"Many students can relate to Ethan and his desire to "fix" his dad," says Coates. "Particularly through the lens of a global pandemic, many students have witnessed their parents dealing with difficult situations and have had to learn to navigate the complex emotions that come with these difficulties." On top of its timely themes, the novel also offers the chance for students to learn about visual storytelling techniques, through the many illustrations and comic strips featured throughout the novel.
Coates has had the opportunity to meet many authors over her career, particularly through her work with Elk Island Public Schools' annual Young Authors' Conference, where students learn storytelling skills from authors themselves. "Authors are always interested to know if any of their books are part of the classroom library and how they're being received by students," she says. "I had a feeling Mr. Oppel would be interested to hear how his book was being taught, so I emailed him a copy of the teaching plan."
As it turned out, Oppel was interested and asked permission to host the teaching plan on his website, where it would be available to any teachers who wanted to use it, not just within the Division, but around the world. As a thank-you for sharing the teaching plan, Oppel made a virtual visit to Coates' classroom yesterday to speak with students about the book and share some of his storytelling wisdom.


Davidson Creek Elementary serves approximately 600 students in kindergarten to Grade 6, and is one of 43 schools within Elk Island Public Schools. More information about the school is available at www.davidsoncreekelementary.ca.
–30–
For more information contact:
Laura McNabb, Director, Communication Services, EIPS 780-417-8204 cell 780-405-4902