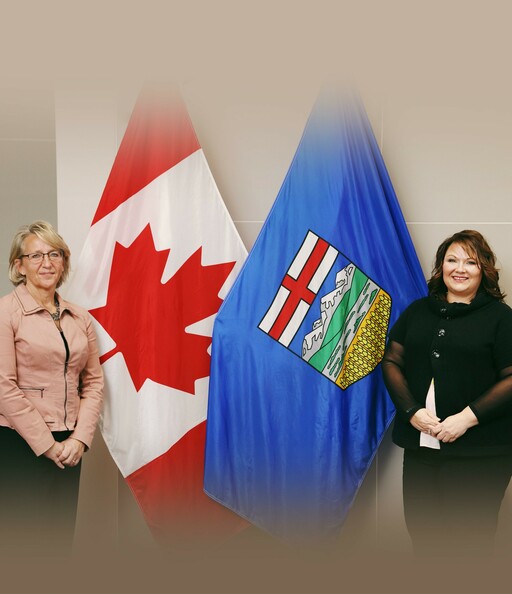 Sherwood Park, AB. — Today, at a regularly scheduled Elk Island Public Schools (EIPS) Board of Trustees meeting, trustees formally elected Trina Boymook as the Board Chair. Additionally, Colleen Holowaychuk was elected as the Vice-Chair. Both individuals will lead the Board of Trustees for the 2021-22 school year.
Board Chair Boymook was first elected as an EIPS trustee in October 2013—representing residents in Sherwood Park. She also served as Vice-President of the Alberta School Boards Association (ASBA)—a position she held for the last three and a half years. Boymook is a vocal advocate for education and has worked diligently for years to ensure child and parent concerns are heard in the classroom, in schools and in the boardroom. This is Boymook's ninth consecutive term as Board Chair.
"I'm honoured to be elected and want to thank my fellow trustees for their support as we focus on another challenging year for EIPS students," says Boymook. "Over the next eight months, we'll concentrate on addressing learning gaps that have emerged over the course of the last two years and on providing schools with the tools needed to help students succeed."
Vice-Chair Holowaychuk was first elected as an EIPS trustee in October 2010—representing residents in Lamont County. She also serves as Chair of ASBA Zone 2/3. Her background includes several leadership roles and almost 30 years in the science and health care sectors. When not working, Holowaychuk enjoys volunteering and being part of the rural community, as it's part of her roots and an important aspect of her life. This is Holowaychuk's sixth term as Board Vice-Chair.
"It's a great privilege to be Vice-Chair," says Holowaychuk. "We have a lot of work to do to ensure learning continues to take place in the safest way possible, and students have the chance to progress academically despite the pandemic. It's a responsibility the Board takes seriously, and trustees will work closely with administration to achieve that end."
At the meeting, the Board of Trustees also approved its regular Board meeting schedule, which is available on the EIPS website.
EIPS has a nine-member Board representing approximately 17,125 students and their families in Sherwood Park, the City of Fort Saskatchewan, the Town of Vegreville, Strathcona County, Lamont County and the western portion of the County of Minburn. Throughout the year, trustees meet regularly, as a Board and on committees, to ensure students receive the best education possible.
To learn more about the EIPS Board of Trustees visit www.eips.ca/trustees.
Elk Island Public Schools is one of Alberta's largest school divisions, serving approximately 17,125 students in 43 schools. We are proud to be an integral part of our communities, including Sherwood Park, Fort Saskatchewan, Vegreville, Strathcona and Lamont counties, and the western portion of the County of Minburn.
–30–
For more information contact:
Laura McNabb, Director, Communication Services, EIPS 780-417-8204 cell 780-405-4902