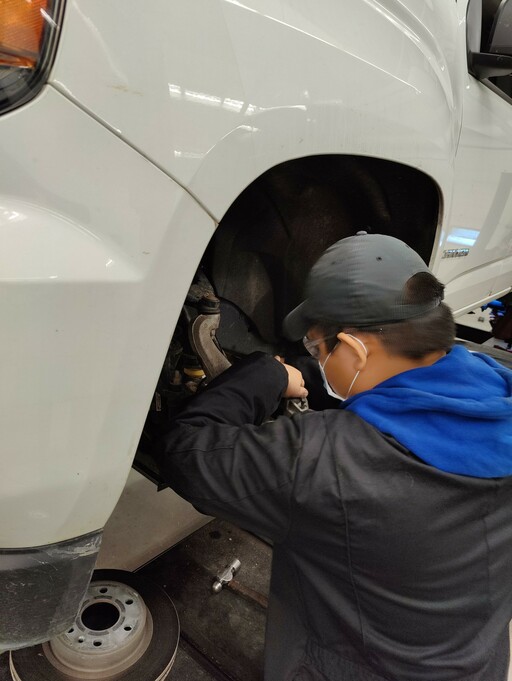 Sherwood Park, AB. — The demand for tradespeople remains strong in Alberta, and Elk Island Public Schools (EIPS) supports the development of skilled trades professionals by way of its Registered Apprenticeship Program (RAP), as well as the Career and Technology Studies (CTS) apprenticeship pathways. These programs provide excellent opportunities for students to gain valuable experience while still attending high school, giving them an important advantage as they pursue a career in their chosen field.
On November 4, CAREERS: The Next Generation, on behalf of Alberta Apprenticeship and Industry Training (AIT), hosted the virtual High School Apprenticeship Scholarship Celebration acknowledging the hard work of students throughout Alberta—and announced the winners of $1,000 scholarships that will help them take their careers to the next step upon graduation. Among those honoured were fifteen EIPS students:
EIPS High School Apprenticeship Scholarship Recipients:
| | |
| --- | --- |
| Bev Facey Community High | Trade |
| Carson Altheim | Plumber |
| Hailey Chrystian | Electrician |
| Nikolas Thomas | Welder |
| Davin Wack | Carpenter |
|   |   |
| Fort Saskatchewan High |   |
| Brandon Baker | Electrician |
| Ayden Barras | Millwright |
| Sterling Bellmore | Instrumentation and Control Technician |
| Teri-Lynn Nice | Automotive Service Technician |
| Wade Yanke | Millwright |
|   |   |
| Next Step Fort Saskatchewan |   |
| Raymond Pelrine | Ironworker |
|   |   |
| Salisbury Composite High |   |
| Elliot Despins | Electrician |
| Dylan Hunter | Heavy Equipment Technician |
|   |   |
| Vegreville Composite High |   |
| Jake Moroz | Automotive Service Technician |
| Melissa Rutherford | Parts Technician |
Alberta High School Apprenticeship Scholarship Recipient – Bright Future:
Dylan Desmond, Salisbury Composite High, was one of nine recipients in the province for completing both the Registered Apprenticeship Program and his Career and Technology Studies Apprenticeship Pathway as an Automotive Service Technician.


"The RAP and CTS pathways develop skills that students can apply in their daily lives when preparing for entry into the workplace and beyond," says Barclay Spady, EIPS Consultant, Career Pathways. "Essential competencies achieved allow students to make relevant connections with work and post-secondary training. Receiving scholarships and recognition will enable them to continue to access the skills and training they need to follow their aspirations to become skilled trades professionals."
EIPS has a variety of programs to help students explore potential careers. Students get a chance to examine numerous career pathways and possibilities in grades 7-12, which develop their knowledge, skills, attitudes and values as they choose to enter post-secondary institutions or go directly into the workforce. For more information, visit the EIPS website.
Elk Island Public Schools is one of Alberta's largest school divisions, serving approximately 17,125 students in 43 schools. We are proud to be an integral part of our communities, including Sherwood Park, Fort Saskatchewan, Vegreville, Strathcona and Lamont counties and the western portion of the County of Minburn.
–30–
For more information contact:
Laura McNabb, Director, Communication Services, EIPS 780-417-8204 cell 780-405-4902