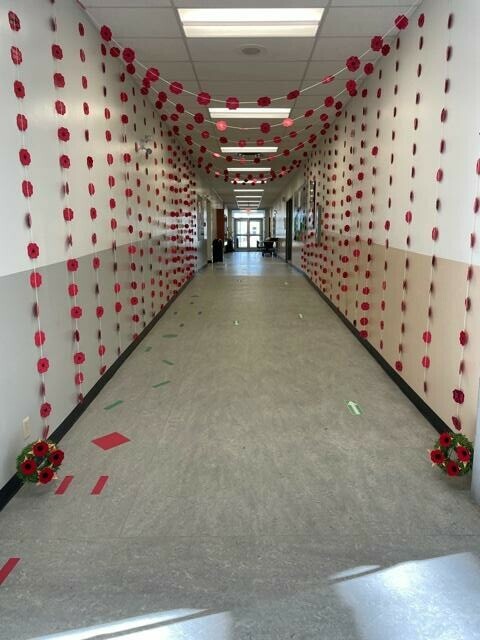 Sherwood Park, AB. — Staff and students throughout Elk Island Public Schools (EIPS) are getting ready to host Remembrance Day ceremonies on November 5. The ceremonies will honour those who have served in the Canadian Armed Forces during times of war and peace, and serve as a reminder to everyone across the Division the freedoms enjoyed today came at a terrible cost.

"On Remembrance Day, we honour the people who fought and died to keep our country free," says Trina Boymook, the Board Chair of EIPS. "It's important for our students to learn about and understand the incredible sacrifices made by members of the Canadian Armed Forces, historically and in the present day, so the memory of all they did for us lives on."

Ceremonies are planned in schools throughout EIPS, and will include assemblies, student art projects, choir and music performances, virtual guest speakers from the Canadian Armed Forces, a moment of silence and the playing of bagpipes. Students will also spend the day learning about the sacrifices and contributions Canadian veterans have made over the years and the significance of the poppy worn on Remembrance Day.
This year marks the 100th anniversary of the remembrance poppy in Canada, and Fort Saskatchewan Elementary created a Hallway of Peace draped with the bright crimson symbol. Every student had the opportunity to create a poppy that contains a message of peace, each of which was respectfully woven into the installation. After classes on November 1, veterans from the local legion were invited to walk the hallway and read what students had written to honour them and the tens of thousands of others who served our country from 1812 onward.

"The Hallway of Peace art project shows that we haven't forgotten," says Kate Sadownyk, a Grade 6 student from Fort Saskatchewan Elementary. "We still remember the many sacrifices soldiers have made for us. I hope the veterans felt proud to see that even the younger generations will never forget."
Details about specific events planned at other schools throughout the Division are available on school websites or by contacting your local school. Due to COVID-19 public health measures, there are no public ceremonies being held by EIPS this year.
EIPS is one of Alberta's largest school divisions, serving approximately 17,125 students in 43 schools. We are proud to be an integral part of our communities, including Sherwood Park, Fort Saskatchewan, Vegreville, Strathcona and Lamont counties, and the western portion of the County of Minburn.
 
–30–
For more information contact:
Laura McNabb, Director, Communication Services, EIPS 780-417-8204 cell 780-405-4902