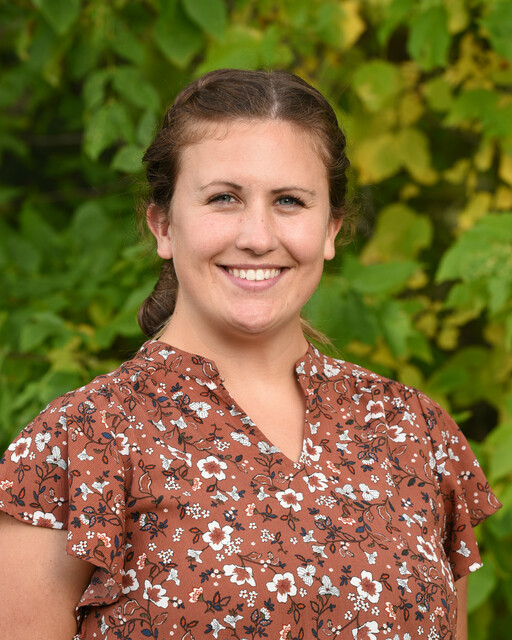 Sherwood Park, AB. — For a first-year teacher, the days are often filled with lesson planning, getting a grasp on classroom management and simply navigating the hallways of a new building. While it may take time—even a few years—for some new teachers to build strong relationships with their students and colleagues, some, like Kristin Davies, hit the ground running.
Davies, who teaches English and French Language Arts as well as a few options at Sherwood Heights Junior High, has been selected as Elk Island Public Schools' (EIPS) nominee for this year's Edwin Parr Teacher Award, an award given by the Alberta School Boards Association to recognize excellence among first-year teachers. Davies' nomination highlighted her focus on creating inclusive learning environments and varied instructional and assessment practices to meet the needs of diverse learners and learning styles, as well as her efforts in building positive relationships both inside and outside the classroom.
"I've always loved coaching, tutoring and teaching, and I love working with students and helping them succeed," says Davies. "I know firsthand that one approach doesn't work for everyone. So, by differentiating, providing multiple means for engaging in class work and encouraging student choice, I hope to reach more of my students and give everyone the same opportunity to grow and be successful." Davies knew from the start she wanted to create a safe, welcoming classroom where students could thrive, and she's worked hard to foster positive relationships with students to create that environment.
"I wholeheartedly believe meaningful learning happens most effectively when you've established positive relationships, have mutual respect and students know you're genuinely looking out for their best interests," says Davies. "Even small things like hallway conversations and helping out with lunch activities can go a long way in building good relationships with students." Davies' strong relationships don't end with students. The connections she's made with fellow staff are equally important.
"Building a good support system is so beneficial because we don't have to do it all ourselves," says Davies. "I've been mentored by some amazing teachers along the way, and everyone has been so helpful. Through them, I'm learning it may not get easier over time—as you're always working hard to make learning meaningful—you just become better equipped to do so with the resources you collect and connections you make from year to year." Davies' energy at the school has been infectious, and she's been a welcome addition to the school team.
"Kristin very clearly loves the work she does—teaching isn't just a job for her, it's a calling," says Amit Mali, Principal, Sherwood Heights Junior High. "Her creativity in the way she presents material to students, combined with how active she is in the school community as a whole, fosters meaningful engagement with students helping them be successful."
Congratulations to Kristin Davies on her nomination as EIPS' Edwin Parr Award nominee, and thank you to all first-year teachers within EIPS for their dedication and contributions throughout the past year.
RELATED INFORMATION
Alberta School Boards Association Awards
Elk Island Public Schools is one of Alberta's largest school divisions, serving approximately 17,125 students in 43 schools. We're proud to be an integral part of our communities, including Sherwood Park, Fort Saskatchewan, Vegreville, Strathcona and Lamont counties and the western portion of the County of Minburn.
–30–
For more information contact:
Laura McNabb, director, Communication Services, EIPS 780-417-8204 cell 780-405-4902