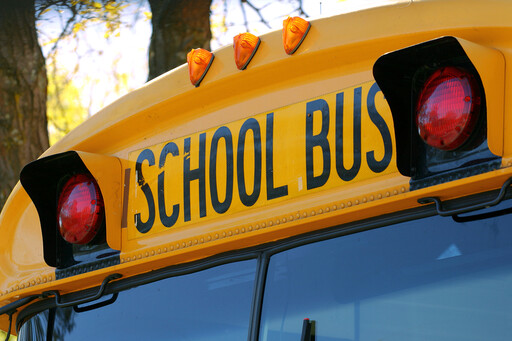 Sherwood Park, AB. — School divisions throughout Alberta are getting some needed financial relief, thanks to a recent provincial announcement about reinstating the Fuel Price Contingency Program. That's welcome news for Elk Island Public Schools (EIPS). Reintroducing the program will benefit both the Student Transportation department and school families using the Division's busing services.
"Over the last few months, the Board has worked hard advocating to reintroduce its fuel-price contingency fund, both through local efforts and by introducing an emergent resolution that passed unanimously through the Alberta School Boards Association," says Trina Boymook, the Board Chair of EIPS. "School divisions provincewide need the program to help insulate against fluctuating fuel costs. So, we're thrilled the province responded and acted by reinstating the program."
First introduced in 2007, the Fuel Price Contingency Program protects school divisions from fuel-price fluctuations. It allows the government to apply a monthly increase to school divisions' operating revenues to offset diesel fuel costs when prices exceed a certain amount. The program was suspended in 2013. Now reinstated, school divisions will receive the additional revenue when fuel prices surpass $1.25 per litre. The program is expected to remain in place for the entire 2022-23 school year.
"EIPS serves one of the province's largest geographical areas—travelling approximately 17,000 kilometres a day," says Boymook. "Assuming fuel prices stay at the current rate, the Division projects fuel costs to increase by more than $800,000 in the upcoming school year. That's significant. By reinstating the program, it protects EIPS from rising fuel expenses, allows the Student Transportation department to maintain its current level of service, and ensures services remain affordable for school families."
As a result of the program reintroduction, EIPS is passing the relief on to all families using its busing services through a fuel-contingency rebate. EIPS Student Transportation will provide each rider, Grades 1 through 12, with a $21 credit against their student transportation fees for the 2022-23 school year. Meanwhile, riders in kindergarten will see a $10.50 credit. The Division will use all additional money to offset increasing contractor costs and expenses for additional buses in high-capacity route areas.
Elk Island Public Schools is one of Alberta's largest school divisions, serving approximately 17,125 students in 43 schools. We're proud to be an integral part of our communities, including Sherwood Park, Fort Saskatchewan, Vegreville, Strathcona and Lamont counties and the western portion of the County of Minburn. To learn more visit www.eips.ca.
RELATED INFORMATION:
EIPS Student Transportation
EIPS Student Transportation Fees
EIPS Fuel-Contingency Rebate
–30–
For more information contact:
Laura McNabb, Director, Communication Services, EIPS 780-417-8204 cell 780-405-4902