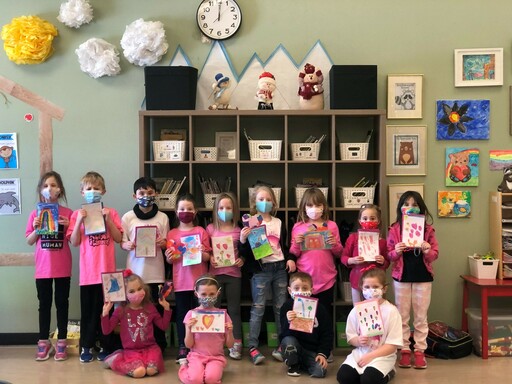 Sherwood Park, AB. — Long-term care residents of the Lamont Health Care Centre received an unexpected influx of cards and artwork this week, sent from Grade 1 students at Lamont Elementary. These messages of kindness were sent with the simple intention of bringing a bit of cheer to residents and to show that even while maintaining physical distance, community connections are still possible—and important.
Kindness and community spirit are emphasized throughout the year at Lamont Elementary, with students taking part in various initiatives to spread cheer throughout the area. In past years, this has included trips to places such as the Lamont Health Care Centre and local seniors' residence, where students visit with residents, sing for them and add some light to their lives. The usual trips during Halloween and Christmas had to be cancelled this year because of the pandemic, but the school's Grade 1 teachers, Sarah Janssen and Leah Galloway, didn't give up on the idea of spreading a bit of joy.
"These visits from students have become a treasured experience for many residents," says Janssen. "We didn't want to lose the connection we've been able to make, so we started looking for other ways to stay in touch." Inspired by the school's Pink Shirt Day activities and the day's mission to spread kindness, the Grade 1 classes began to write friendly cards and create artwork and decorations to send to Lamont Health Care Centre residents.
Students thought up friendly messages and happy thoughts to pass along to residents, and following the directive of Pink Shirt Day, emphasized the importance of showing kindness to everyone—both within the school and throughout the wider community. The residents were delighted to receive the cards and art and have displayed them on walls and in windows for all to see.
"I felt really good spreading kindness with our cards," says Eleanor, a Grade 1 student at Lamont Elementary. "It makes other people feel happy, and it makes me feel happy too." The Grade 1 classes plan to continue their physically distant connections with the Lamont Health Care Centre and plan to send a second round of cards and artwork when students return from spring break.
Elk Island Public Schools is one of Alberta's largest school divisions, serving approximately 17,000 students in 43 schools. We are proud to be an integral part of our communities, including Sherwood Park, Fort Saskatchewan, Vegreville, Strathcona and Lamont counties and the western portion of the County of Minburn.
–30–
For more information contact:
Laura McNabb, Director, Communication Services, EIPS 780-417-8204 cell 780-405-4902