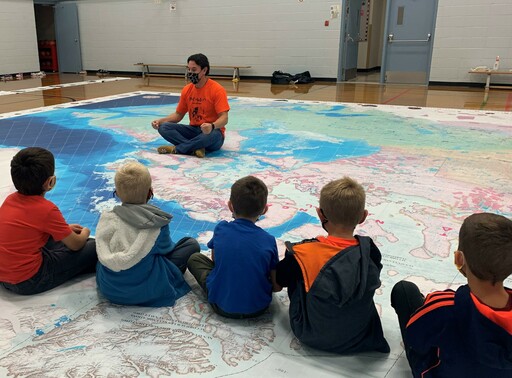 Sherwood Park, AB. — Today, students and staff at Elk Island Public Schools (EIPS) are observing Orange Shirt Day, a national day of commemoration. The annual observance recognizes the history of residential schools in Canada, acknowledges the survivors' healing journey and shows a commitment on the part of students and staff toward the ongoing process of reconciliation.
Now in its eighth year, Orange Shirt Day was first inspired by the experiences of a former residential school student, Phyllis Westad, whose grandmother gave her a shiny orange shirt to wear on her first day of school in 1973. Upon arriving, her shirt was taken away and replaced with a school uniform, never to be seen again. In 2013, after sharing her story on the national stage, Westad's experience became a symbol of the loss of culture, the fracturing of family bonds and everything taken from Indigenous communities because of residential schools.
"Orange Shirt Day begins a conversation about the impact and legacy of residential schools among students and staff," says Jeremy Albert, a First Nations, Métis and Inuit Education Advisor at EIPS. "These conversations extend to the home and to family members who may not have learned about residential schools when they were students. The day is meant to build empathy and represents the first step on the journey toward reconciliation, as we first need to know the truth before we can move forward together."
Normally on Orange Shirt Day, schools would pair their orange attire with various activities such as school assemblies, guest speakers, storytelling and more. But of course, things are working a little differently this year. Schools are utilizing video in lieu of gathering together, and many are creating bulletin boards and gallery walks to showcase student art to increase awareness and encourage conversations. And, though Orange Shirt Day is an important observance, it doesn't represent the end of the conversation for students.
"Students continue to experience the beauty, richness and diversity of Indigenous Peoples and their cultures throughout the year," says Cheryl Devin, a First Nations, Métis and Inuit consultant at EIPS. "By working with Indigenous education consultants, Elders and local knowledge holders, and by exploring our shared history through the Project of Heart and the Blanket Exercise, these conversations remain with us year-round."
With Elder Wilson's retirement last year, schools are now building a new relationship with Albert, the latest addition to the education team. Already, they're benefiting from his experience. With an increased interest in utilizing outdoor spaces, Albert and Devin are helping teachers and students develop their understanding of the land from Indigenous perspectives, and learning how to cultivate their relationship with the land where they live and work every day.
Elk Island Public Schools is one of Alberta's largest school divisions, serving approximately 17,400 students in 43 schools. We are proud to be an integral part of our communities, including Sherwood Park, Fort Saskatchewan, Vegreville, Strathcona and Lamont counties and the western portion of the County of Minburn.
–30–
For more information contact:
Laura McNabb, Director, Communication Services, EIPS
780-417-8204 cell 780-405-4902