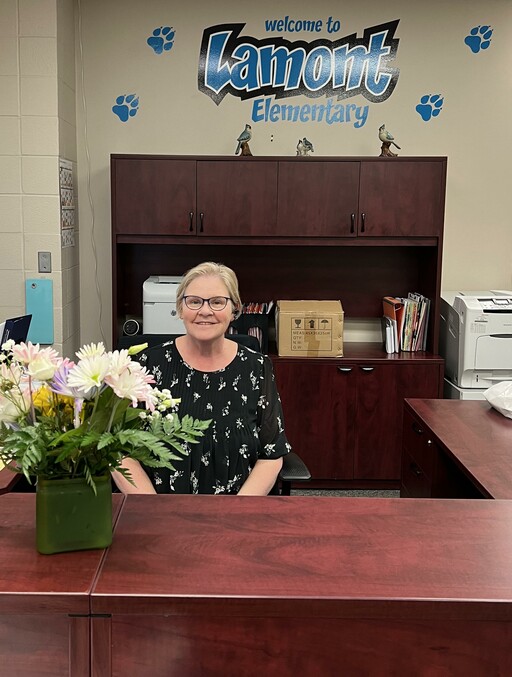 Sherwood Park, AB. — April 27 marks Administrative Professionals' Day. It's an opportunity to extend a special thank you to all secretaries, administrative assistants, executive assistants, receptionists and other administrative support professionals throughout Elk Island Public Schools (EIPS) for the outstanding work they do in all the day-to-day operations and interactions across the Division.
"The administrative professionals in our office are the backbone that keeps us all moving in the right direction—we'd be lost without them," says Kari Huk, Principal, Lamont Elementary. "So often, they're the first point of contact with families and students, whether it's in person or on the phone, so they set the tone for the day and really are the pulse of the school." Ensuring students and families have a welcoming, positive relationship with the school is important to Wendy Motiuk, secretary at Lamont Elementary.
"Working in the school office, I really enjoy the relationships I'm able to build with staff, students and parents," says Motiuk. "It's amazing to see new kindergarteners start school each fall and watch them grow and change over the years. Because we're in a small community, those relationships with the students and their families often continue when they move across the street for junior and senior high, and we get to celebrate all their accomplishments and Grade 12 graduations as an entire school community."
No two days are the same for these staff—whether they're working at a school or Central Services. Every day brings new challenges and learning opportunities that keep the job interesting. And, whether they're in their first week on the job or a seasoned veteran of 25 years, like Motiuk, administrative professionals throughout EIPS are always eager and willing to collaborate with peers and share their wealth of knowledge to support those around them.
"I've worked with a number of secretaries and administrative support staff throughout my career—first as a teacher and now as a principal," says Huk. "I've learned something from each of them and greatly appreciated their support and guidance, especially when I became a new principal. They seem to know everything! They're often the first stop when any staff member has a question about a process, an upcoming event or a family at the school—and if they don't know the answer, they know where to find it."
Motiuk is one of approximately 140 administrative professionals who work within EIPS. They're critical in supporting the day-to-day operations of every school and Central Services department across the Division. Thank you to all administrative staff throughout EIPS for everything you do each day to keep the Division running smoothly!
EIPS is one of Alberta's largest school divisions, serving approximately 17,125 students in 43 schools. We're proud to be an integral part of our communities, including Sherwood Park, Fort Saskatchewan, Vegreville, Strathcona and Lamont counties, and the western portion of the County of Minburn.
–30–
For more information contact:
Laura McNabb, Director, Communication Services, EIPS 780-417-8204 cell 780-405-4902