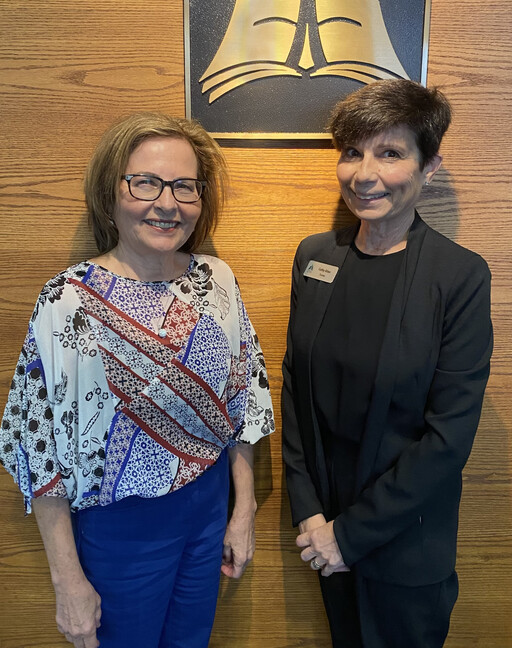 Sherwood Park, AB. — Today, at its annual organizational meeting, Elk Island Public Schools' (EIPS) Board of Trustees formally selected its Chair and Vice-Chair. Cathy Allen will act as the Board Chair and Susan Miller as the Vice-Chair. Both individuals will lead the Board of Trustees for the 2023-24 school year.
Board Chair Allen was first elected as an EIPS trustee in October 2021—representing residents in Sherwood Park. She has a 40-year career in EIPS, serving as a teacher, consultant, assistant principal and principal in various K-12 schools. Allen advocates for excellence in education and believes all students should have the opportunity to achieve their greatest potential. This is Allen's first term as Board Chair.
"After my many years of service with the Division, I'm honoured and excited to serve as Board Chair for such a collaborative and capable team," says Allen. "My fellow trustees and I all have a common goal in mind—to promote the growth and success of all students in the diverse communities EIPS serves. I look forward to maintaining the Division as a place where students want to learn and staff love to work."
Vice-Chair Miller was first elected as an EIPS trustee in October 2021—representing Strathcona County residents north of Wye Road. Working as a health care aide for more than 11 years has taught Miller the value of teamwork and accountability in a corporate setting. Her goal as a trustee is to work hard to ensure every child in EIPS receives the best possible educational opportunities. This is Miller's first term as Board Vice-Chair.
"I'm proud and grateful to serve as Vice-Chair," says Miller. "Together as a Board, we'll continue to make decisions and build relationships in the best interests of students. With changes in both leadership for the Board and senior administration, there's an opportunity to reflect on our processes, but our focus will always remain on high-quality, student-centered education."
At the meeting, the Board of Trustees also approved its regular Board meeting schedule, which is now available on the EIPS website.
EIPS has a nine-member Board representing approximately 17,500 students and their families in Sherwood Park, the City of Fort Saskatchewan, the Town of Vegreville, Strathcona County, Lamont County and the western portion of the County of Minburn. Trustees meet as a Board and on committees on a regular basis throughout the year to ensure students receive the best education possible.
To learn more about the EIPS Board of Trustees visit www.eips.ca/trustees.
Elk Island Public Schools is one of Alberta's largest school divisions, serving approximately 17,500 students in 42 schools. We are proud to be an integral part of our communities, including Sherwood Park, Fort Saskatchewan, Vegreville, Strathcona and Lamont counties, and the western portion of the County of Minburn.
–30–
For more information contact:
Laura McNabb, Director, Communication Services, EIPS 780-417-8204 cell 780-405-4902