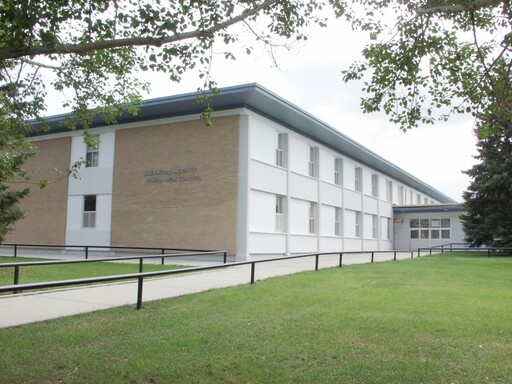 Sherwood Park, AB. — Today, the Hon. Adriana LaGrange, Minister of Education announced the Government of Alberta is proceeding with construction on a much-needed Elk Island Public Schools (EIPS) facility for Sherwood Park students.
"Schools that are designed and built with learning in mind, and with meeting student needs, can contribute significantly to student engagement and achievement," says Trina Boymook, EIPS Board Chair. "Having a replacement school in the well-established neighbourhood of Sherwood Heights will benefit families in the county for decades to come."  
Sherwood Heights Junior High has been on the Division's capital project list for ten years, progressing from a modernization to a replacement school as the facility aged and critical systems deteriorated further. École Campbelltown is a 63 year-old building which, barring a major modernization, cannot accommodate further enrolment growth. In 2020, the Division undertook a value management study involving locally elected officials, municipal administrators, service groups and community members, and was able to present a financially responsible and innovative proposal for the provincial government's consideration.
"Today's announcement would not have been possible without strong advocacy on the part of school families, partners and other members of the community over the past several years," says Boymook. "I also wish to acknowledge both the Hon. Nate Glubish, Minister of Technology and Innovation Alberta and MLA for Strathcona-Sherwood Park, and Jordan Walker, MLA for Sherwood Park, for their ongoing support of this critical infrastructure project and for helping ensure it progressed to the construction phase."
Funding for school design was provided last year and planning for the project is already well underway. EIPS will now begin work with the provincial government to determine a construction start-date and schedule. More information about the project will be available once timelines are established. 
Elk Island Public Schools is one of Alberta's largest school divisions, serving approximately 17,460 students in 43 schools. We are proud to be an integral part of our communities, including Sherwood Park, Fort Saskatchewan, Vegreville, Strathcona and Lamont counties, and the western portion of the County of Minburn.
–30–
For more information contact:
Laura McNabb, Director, Communication Services, EIPS 780-417-8204 cell 780-405-4902