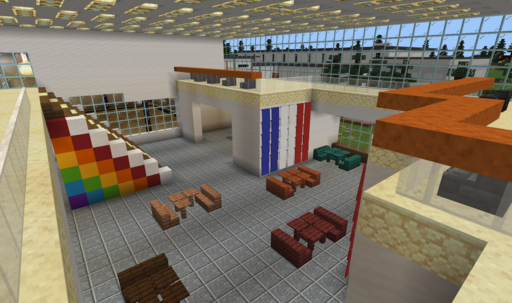 Sherwood Park, AB. — Elk Island Public Schools (EIPS) students across the Division struck gold in this year's EIPS Minecraft Design Challenge: Build a School. The following classes and individuals have been chosen as the final challenge winners:
Ardrossan Elementary: The Grade 4 students in Claudia Klippenstein's class
Lakeland Ridge: The Grade 3 students in Michael Mackney's class
Lamont High: Grade 8 student Zoë Matiushyk and Grade 11 student Isaiah Anderson
Those interested can view the challenge winners' prototypes at eips.ca. "I enjoyed working as a team and how everyone was talking to each other and figuring out things together," says Emerson Waschuk, a Grade 4 student at Ardrossan Elementary. "I really liked building the flex spaces in our prototype—it'd be cool to see them in real life!"
These winners were announced at a virtual ceremony on May 24. A panel of judges assessed their school building prototypes for adherence to Alberta Infrastructure standards, LEED guidelines and landscaping specifications. Their creations were also judged on originality and creativity—with emphasis on an imaginative and innovative solution to the challenge of a possible real-world scenario.
"By using Minecraft Education as the platform where students created their prototypes, it gives students the freedom to create, pushing their imaginations to the limit and allowing them to be creative in ways not possible in the real world," says Sydney Munsterman, an educational technology consultant at EIPS.
Additionally, students had to create a video and document to go along with their prototype. Both deliverables asked students to call upon their critical thinking skills and reflect on the building process—in terms of their triumphs and challenges. "This project really developed students' teamwork and communication skills," says Claudia Klippenstein, a Grade 4 teacher at Ardrossan Elementary. "They used high level thinking to evaluate ideas, prioritize time, organize processes, plan ahead and visualize in 3D. We also worked through core concepts from the mathematics, language arts, science, social studies and art curricula—everyone drew on their strengths to contribute in big and small ways. Despite many challenges along the road, I'm proud of how our class came together to create an amazing school!"
The final three challenge winners will present the prototypes they built in Minecraft Education to an EIPS New School Committee on May 31. The New School Committee will be comprised of representatives from EIPS and ACI Architecture. The goal: To give students the chance to apply their learning and present their ideas in a realistic setting.
"I love how we got to show our creative side," says Teagan O'Neill, a Grade 3 student at Lakeland Ridge. "And, how we applied our new knowledge of building a school when creating our prototype."
Elk Island Public Schools is one of Alberta's largest school divisions, serving approximately 17,460 students in 43 schools. We are proud to be an integral part of our communities, including Sherwood Park, Fort Saskatchewan, Vegreville, Strathcona and Lamont counties, and the western portion of the County of Minburn.
–30–
For more information contact:
Laura McNabb, Director, Communication Services, EIPS 780-417-8204 cell 780-405-4902