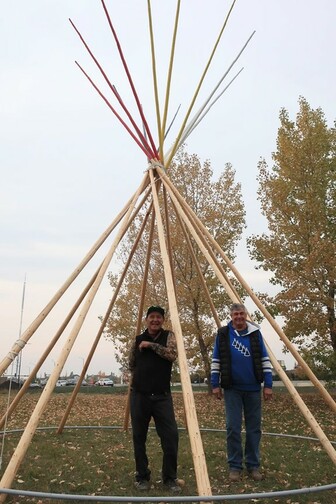 Sherwood Park, AB. — Storytelling, music, dance and food are all playing a part in this year's National Indigenous Peoples Day festivities, taking place throughout Elk Island Public Schools (EIPS) today. Divisionwide, students and staff are participating in activities aimed at recognizing and learning about the histories, cultures and perspectives of Indigenous Peoples. This year's highlight: A grand opening ceremony for EIPS' newest land-based learning space, located at the EIPS Central Services Office.
"We're thrilled to open another land-based learning space within the Division," says Trina Boymook, the Board Chair of EIPS. "It's a beautiful space that will allow us to share the wisdom we've gained with others in our community. Our hope is through these spaces, we can enhance understanding, empathy and the bonds of friendship across cultures."
The new land-based learning space is one of 14 within the Division—each serves as a place of reflection and connection. Their purpose is two-fold. First, to offer a public space for students, staff and community members to come, connect and learn from the land. Second, to function as an ethical space to bring to life EIPS' land acknowledgment and reaffirm treaty obligations. The spaces are hugely popular divisionwide, and plans are underway to create even more spaces at schools throughout EIPS.
"The Board and administration believe education is key in our journey of reconciliation," says Boymook. "Because of that, we feel it's our duty to educate ourselves and others; to facilitate opportunities to be in relation with the land; and our responsibility to listen and learn. By doing so, we can all move together toward healing and reconciliation. The land-based learning space is one step toward this by discovering how we are all connected to the earth, to ourselves and to one another."
A special thanks to:
Elder Wilson Bearhead, a member of the Wabamun Lake Indian Band who served as a Chief in his community, the Grand Chief of the Confederacy of Treaty 6 First Nations and Alberta Regional Chief for the Assembly of First Nations, for his wisdom and guidance over the last six years.
EIPS First Nations, Métis and Inuit Education Centre for its ongoing efforts to engage students, at every grade level, about First Nations, Métis and Inuit history, perspectives and traditions.
Representatives of the media are invited to join EIPS as it officially opens its newest land-based learning space. Students, families and community members are encouraged to watch the ceremony live on the EIPS YouTube Channel. For media, there will also be an opportunity to take photos, speak with EIPS representatives, Elders and students, and to learn more about the significance of the land-based learning spaces.


Event Details: EIPS land-based learning space grand opening:
Date: June 21, 2022
Time: 9:30 a.m. to 10:30 a.m.
Location: EIPS Central Services Office, 683 Wye Rd., Sherwood Park, AB.
Watch live: EIPS YouTube Channel


In addition to the grand opening ceremony, schools across the Division are celebrating National Indigenous Peoples Day by hosting assemblies and guest speakers, organizing round dances and games and serving up traditional Indigenous foods. National Indigenous Peoples Day is a nationally recognized day for all Canadians to celebrate the unique heritage, diverse cultures and outstanding contributions of First Nations, Métis and Inuit people. The day was chosen as National Indigenous Peoples Day because of the cultural significance of the summer solstice—the first day of summer and the longest day of the year—and a day many Indigenous groups traditionally celebrate their heritage.
For more information on EIPS First Nations, Métis and Inuit education visit eips.ca.
Elk Island Public Schools is one of Alberta's largest school divisions, serving approximately 17,125 students in 43 schools. We're proud to be an integral part of our communities, including Sherwood Park, Fort Saskatchewan, Vegreville, Strathcona and Lamont counties and the western portion of the County of Minburn. To learn more visit www.eips.ca.
–30–
FOR MORE INFORMATION CONTACT: 
Laura McNabb, Director, Communication Services, EIPS 780-417-8204 cell 780-405-4902