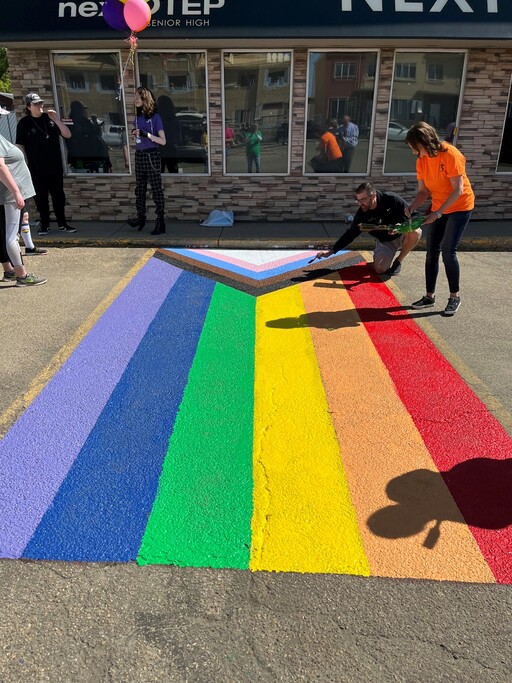 Sherwood Park, AB — Schools throughout Elk Island Public Schools (EIPS) are celebrating Pride Week, June 11-18. Organized annually, it's an opportunity for students and staff to celebrate diversity and inclusion, and at the same time learn about the achievements, history and contributions of LGBTQ2S+ individuals and groups.
"Elk Island Public Schools is committed to fostering inclusive working and learning spaces where students, staff and families of all gender identities and expressions can feel welcome and safe," says Trina Boymook, EIPS Board Chair. "The efforts undertaken throughout the Division help advance equity, acceptance and a sense of belonging within the communities we serve."

Throughout EIPS, various activities are planned for Pride Week 2022—all aimed at celebrating the Division's diverse community and making EIPS a welcoming, inclusive, respectful and safe place. Some of the activities include:
Next Step Fort Saskatchewan and Fort Saskatchewan High: Fort Saskatchewan High received funding for and completed a rainbow crosswalk in honour of Pride Week, and Dow Canada and Next Step Senior High recently partnered to paint two rainbow parking stalls.
Lamont Elementary: Inclusivity, embracing differences and lessons from the book, The Big Umbrella, are the themes being explored for Pride Month. On Friday, June 17, students are encouraged to express their uniqueness by dressing in the way that best represents who they are, which will be called "This Is Me Day!" They will also be taking a school picture showcasing the fact there's room for all of every unique self under the umbrella of Lamont Elementary.


SouthPointe School: Each day, the school is focusing on a colour represented in the Pride flag. Students are encouraged to wear that color of the day and discuss the meaning behind that color. Conversations around the messaging and history around Pride month will be shared over the announcements. Numerous videos and books have been shared to be used within classrooms.


Bev Facey Community High: The school's gay-straight alliance, Facey Spectrum, is hosting various events and efforts to celebrate Pride Week, including creation a sidewalk chalk Pride flag and handing out multi-coloured freezies; creating rainbow flag window paintings, holding a scavenger hunt, and holding a Pride Day during which students are encouraged to wear their brightest rainbow colours. Stickers and pins will also be given out to raise awareness and celebrate the week.


Ardrossan Junior Senior High: Screening the movie Heart Stopper during lunch hour one day and will have a "Pride Bus" cut-out with which students can take pictures to share. Administration is also encouraging students to take part in a schoolwide rainbow photo.


Salisbury Composite High: To celebrate the week, the school will have LGBTQ+ music playing each morning before classes start. The library also has tables and a bulletin board featuring literature and resources, and an episode of an LGBTQ2S+ show will be screened in the theatre during lunch one day. The also school plans to raise the Trans Pride flag, hand out bracelets and buttons, encourage students to wear rainbow colours, and hand out rainbow cookies over the lunch hour.
Elk Island Public Schools is one of Alberta's largest school divisions, serving approximately 17,150 students in 43 schools. We are proud to be an integral part of our communities, including Sherwood Park, Fort Saskatchewan, Vegreville, Strathcona and Lamont counties and the western portion of the County of Minburn.
–30–
For more information contact:
Laura McNabb, Director, Communication Services, EIPS 780-417-8204 cell 780-405-4902