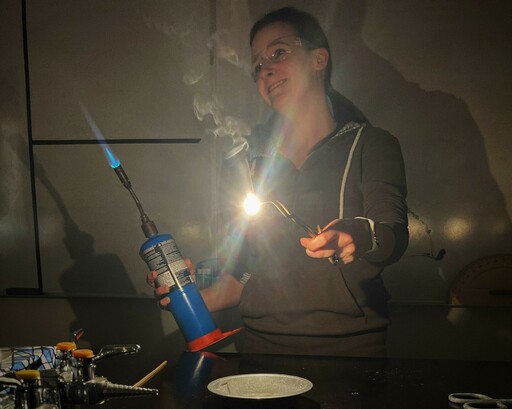 Sherwood Park, AB. — As a provider of choice in education, Elk Island Public Schools (EIPS) consistently delivers a broad range of programming options for students of varied backgrounds and interests. From specialized languages and faith-based programs to advanced academic opportunities and competitive sports, students within the Division have the chance to push past their limits and find meaningful ways to contribute to and grow their communities.
One of the Division's most popular programs is French Immersion—offered from kindergarten through Grade 12. Instruction in the program is based on Alberta Education Programs of Study and is designed for children whose first language is not French. French Immersion creates an enriched learning environment where French is used to teach for a significant part of the school day to promote students becoming fluent in the language.
The program has several other advantages. Notably, it's proven having a second language enhances creativity, critical thinking and problem-solving skills, while making it easier for students to learn additional languages. Also, learning another language doesn't weaken first language skills—research shows a second language can significantly strengthen students' primary language abilities.
Christine Parker-Young exemplifies the advantages French Immersion can offer students, through school and after graduation. Currently a French Immersion teacher at Ardrossan Junior Senior High, Parker-Young speaks glowingly of the opportunities the program provided her over the years.
"I got accepted into every post-secondary program I applied for," says Parker-Young. "I decided to attend Campus Saint-Jean with the University of Alberta because of the smaller class sizes and community emphasis. After I received my bachelors of education and science, I received numerous interviews and job offers as a bilingual educator."
French Immersion also creates a foundation for students to achieve success now and in the future—from exchanges to travel, scholarships to bursaries, the program allows students to grow both personally and professionally.
"Being in the French Immersion program for 13 years, my language skills grew immensely," says Parker-Young. "I could have full conversations in French with my friends and family, and I went to Quebec to experience the culture with my peers. While I initially translated words in my head, over time, I gained the ability to fully think in French."
In 2019, EIPS heard the increasing demand for French Immersion programming and took action, making the new Heritage Hills Elementary a dual-track school—offering both English and French instruction. Students can currently enter the French Immersion program in either kindergarten or Grade 1 at École Parc Élémentaire in Fort Saskatchewan; Ardrossan Elementary; Heritage Hills Elementary; and École Campbelltown in Sherwood Park. The program continues at both Sherwood Heights Junior High and Ardrossan Junior Senior High, giving students the chance to complete their French Immersion education and pursue a broad range of post-secondary and career options.
"French Immersion has shaped my life. I've gone from student to teacher to a proud parent of French Immersion students within EIPS." Parker-Young says. "The opportunities are endless for those with a second language. I'm forever grateful to my parents for putting me in the program—I love watching the students I teach, and my own children, grow in French."
New and returning students may apply to the French Immersion program during the registration process beginning February 1. To determine your designated French Immersion school, visit eips.ca.
Elk Island Public Schools is one of Alberta's largest school divisions, serving approximately 17,460 students in 43 schools. We are proud to be an integral part of our communities, including Sherwood Park, Fort Saskatchewan, Vegreville, Strathcona and Lamont counties, and the western portion of the County of Minburn.
RELATED INFORMATION:
French Immersion Programming in EIPS
French Immersion School Attendance Boundaries
Find My Designated School
–30–
For more information contact:
Laura McNabb, Director, Communication Services, EIPS 780-417-8204 cell 780-405-4902